St. Vincent Charity Health Campus Crisis & Recovery Services: Helping people find their way in times of a behavioral health crisis
---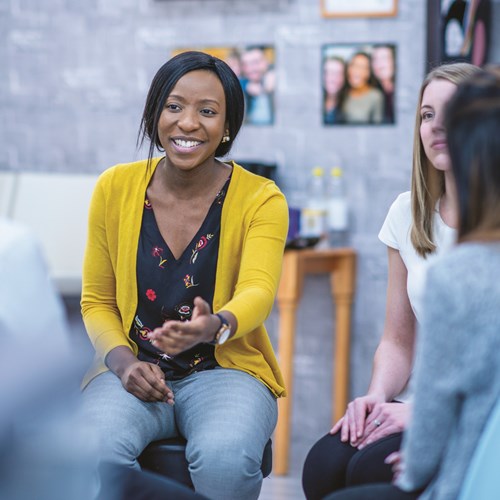 Imagine being in the middle of a behavioral health crisis and having one of the worst days of your life. Then imagine what it would be like to be unable to get the help needed to make it through that day and beyond.
Thousands of people struggling with mental health, substance use, trauma or other challenges that affect mental health end up in the emergency department or jail each year because they don't have access to the level of mental health crisis services they need. Every day, Northeast Ohioans are challenged to get the help they need. Rates of depression, suicide, anxiety and overdose are on the rise. Nearly half of adults who experience mental illness do not receive treatment. Social isolation, despair and chronic stress often culminate and exceed one's ability to cope and lead to a state of crisis.
Expanding Mental Health and Addiction Crisis Care
The St. Vincent Charity Health Campus Crisis & Recovery Services program provides access to resources in Cleveland and Cuyahoga County to help cope in times of crisis, as well as services that support long-term recovery.
The program expands the mental health and addiction crisis continuum of care in the area by partnering with community entities and appropriately addressing the needs of adults (and in the future all age ranges) and all levels of urgency for clinical intervention. The program focuses on outreach, prevention and management efforts in times of crisis. Licensed professionals, peers and specially trained case management staff provide follow-along support and access to treatment. The primary aim is to help people successfully link to life-saving care when they are most vulnerable and in need.
"During times of behavioral health crises, people need someone to speak to, someone to provide assistance on scene and/or a place they can go to obtain help. The most effective system combines a coordinated call system, an appropriate mobile crisis response and safe crisis receiving centers," said Michael J. Biscaro, Psy.D., ABPP (Forensic), vice president of behavioral health services for the St. Vincent Charity Health Campus.
Community-Based Care
The goal is to engage people in their natural settings as often as possible. Visits are community-based, on-site and virtual in nature. A team of Crisis & Recovery staff outreach to community entities such as hospitals, criminal-justice facing entities, homeless shelters and more to provide follow-along support and treatment linkages. Crisis & Recovery Services staff are in the community. They connect with people who work at places like gas stations and churches and who see those who are most vulnerable to having a behavioral health crisis so they have a resource to contact if needed.
The Crisis & Recovery team also offers free outreach programs on the St. Vincent Charity campus and elsewhere in the community to connect with more people and to inspire, uplift and create a safe space for people to heal and grow. These free events have recently included a mental health first aid program (sponsored by the National Alliance on Mental Illness), an art therapy program to help participants improve their mental health and unleash their creativity, and a "Mothers Matter" luncheon that was offered to honor mothers and maternal figures, and support their emotional well-being. A similar event is being planned for fathers and father figures in June.
Recovery Support
The related recovery services offer ongoing support and care to those experiencing serious and persistent mental illness, co-occurring addictions and/or trauma. The team helps those who are at risk of re-hospitalization or require more treatment than a traditional outpatient clinic can offer.
All services are aimed at helping people bridge to outpatient settings and provide the requisite skills needed to realize personal goals. The key supports and services offered are:
Screening and assessment of need
Individual and group therapy
Peer support
Case management and care coordination, including linkage to primary care
Open door or drop-in availability for those unsure of their needs
"Every person in crisis, and their families, should receive a humane response that treats them with dignity and connects them to appropriate and timely care, which is what we are working to provide. We are also working to destigmatize mental health so people aren't afraid to seek help in times of need," said Dr. Biscaro.
For More Information
Interested providers or individuals themselves can call 216.363.7000 for Crisis & Recovery Services or email crisisandrecovery@sistersofcharityhealth.org for more information and to make a referral. Or, click here for more details.
---