Michael J. Biscaro, Psy.D., ABPP (Forensic)
Vice President, Behavioral Health Services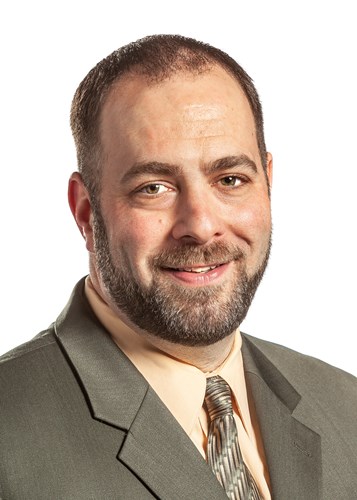 Michael J. Biscaro, Psy.D., ABPP, has 20 years of experience providing direct clinical service and consultation in a variety of settings, including hospitals that service the community and Veterans, community mental health centers, private practice, the criminal justice system, and the Ohio Department of Mental Health and Addiction Services.
Dr. Biscaro currently is vice president of behavioral health services for the Sisters of Charity Health System and the St. Vincent Charity Health Campus initiative. In this role, he is responsible for developing community-based, clinical growth models to address mental health and addiction needs. More specifically, Dr. Biscaro leads efforts to pilot an expansion of crisis services and longer-term recovery supports.
Beginning in 2019, he served as chief of behavioral health at St. Vincent Charity Medical Center, where he assisted the medical center in re-designing and re-imaging one its core service lines, improving access to services, increasing philanthropy and grant funding, and implementing outpatient services. In 2017, Joseph's Home, the only homeless service provider in Northeast Ohio exclusively focused on medical respite care, named Dr. Biscaro as behavioral health director.
Prior to his Sisters of Charity Health System roles, Dr. Biscaro served for 11 years as a supervisory psychologist and program director for mental health and peer support programs at the Northeast Ohio VA Medical Center. He implemented one of the first Psychosocial Rehabilitation and Recovery Centers (PRRC) telehealth program offering the full complement of services to Veterans in the Akron area.
Dr. Biscaro earned his Doctor of Psychology (Psy.D.) degree from Xavier University in 2005 and completed a Post-Doctoral Residency in Clinical Psychology at the Cleveland VA Medical Center with special emphasis in Psychosocial Rehabilitation of individuals who experience Serious Mental Illnesses. Dr. Biscaro is a Diplomate of the American Board of Professional Psychology (ABPP) and is board certified in Forensic Psychology.
Dr. Biscaro has consulted with various behavioral health programs and forensic clinics throughout the community to offer expert testimony/evaluation, extend best practices, and improve training. He has special interest in integrating healthcare for individuals who have complex problems in order to achieve positive health outcomes. Dr. Biscaro is also well-versed in standards for program accreditation, and has been trained in a variety of evidence-based practices.
CONTACT
2475 East 22nd Street, Fifth Floor
Cleveland, Ohio 44115
Office: 216.363.7010
Email: MBiscaro@sistersofcharityhealth.org