Sister Judith Ann Karam named a 2023 recipient of The Cleveland Heritage Medal
---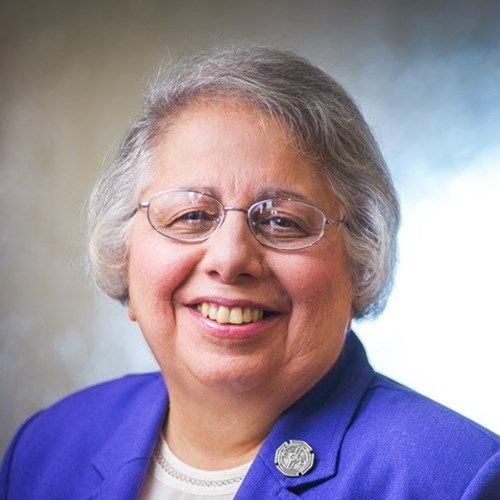 Sister Judith Ann Karam, CSA, LFACHE, congregational leader for the Sisters of Charity of St. Augustine and chair of the Public Juridic Person for the Sisters of Charity Health System, was recently named as a 2023 recipient of The Cleveland Heritage Medal. The award, modeled after the Presidential Medal of Freedom, was established in 2016 to recognize individuals "who have made meritorious contributions to the welfare and development of Greater Cleveland and its citizens."
Sister Judith Ann is a health care pioneer who has served the community for more than 60 years. She is one of five Clevelanders who have made big impacts in the worlds of nonprofits, government, education and health care who have been named recipients of the 2023 Cleveland Heritage Medal.
Read more in Crain's Cleveland Business.
The other 2023 honorees are:
José C. Feliciano Sr., chairman and founder of the Hispanic Roundtable
George L. Forbes, longtime Cleveland City Council president and former Cleveland NAACP president
Ted Ginn Sr., legendary football coach at Glenville High School
Stephen H. Hoffman, president emeritus of the Jewish Federation of Cleveland
The honorees will receive the 2023 Cleveland Heritage Medal at a ceremony on Thursday, November 16, inside the Cleveland City Hall Rotunda.
"The Cleveland Heritage Medal class of 2023 has had an incalculable impact on lives in our community," said Airica Steed, president and CEO of The MetroHealth System. Dr. Steed serves as Cleveland Heritage Medal Committee co-chair alongside Robyn Minter Smyers, partner at Thompson Hine.
"The contributions of these five individuals – in health care, government, social services, education, community service, business and beyond – will benefit Greater Cleveland for generations," Dr. Steed said. "We are blessed to be able to thank them for their service and celebrate their accomplishments and legacies in person later this year."
"Without the contributions of these five individuals – Cleveland would not be what it is today," Robyn Minter Smyers said. "They have left an indelible mark across our community that will be seen and felt for years to come."
Recipients of the Cleveland Heritage Medal are chosen by selection and nominating committees made up of 30 diverse community and corporate leaders.
About The Cleveland Heritage Medal
The Cleveland Heritage Medal is awarded to dedicated community leaders committed to creating and sustaining a city of true greatness — one that provides opportunities for businesses to prosper, for new ideas to flourish, for cultural richness to thrive and for residents to enjoy an exceptional quality of life. It is the highest civilian award in Greater Cleveland. It recognizes those who have made meritorious contributions to the welfare and development of Cleveland and its citizens and who, as role models, represent the core values of service to others, teamwork, courage, respect, and inclusion and diversity. Learn more at heritagemedal.com
---