CORPORATE OFFICE 
SISTERS OF CHARITY HEALTH SYSTEM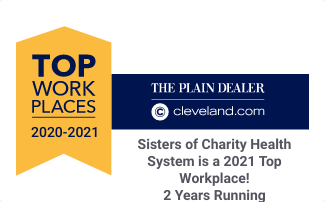 HEALTH CARE MINISTRY
MERCY MEDICAL CENTER, CANTON, OH
2010

Ranked in the top 5 percent of hospitals in the nation for coronary intervention by HealthGrades; also received five-star ratings for coronary bypass surgery, coronary interventional procedures and treatment of heart attacks.

2009

Northeast Ohio's first hospital to offer Hybrid Robotic Heart Surgery, reducing complications and improving recovery time for patients.

2009

Named one of the nation's 100 Top Hospitals for cardiovascular care by Thomson Reuters.

2008

First hospital in Ohio and second in the nation to be named an accredited Heart Failure Institute.

2006

First Chest Pain Center in Stark County certified to perform angioplasty 24 hours a day, seven days a week.

2004

First hospital in Northeast Ohio to perform minimally invasive Direct Coronary Artery Bypass Surgery.

2003

The first accredited Chest Pain Center in the United States
PROVIDENCE HOSPITAL, COLUMBIA, SC
2009

Designated as a Blue Distinction Center for Cardiac Care by BlueCross BlueShield of South Carolina.

2006

First program in South Carolina dedicated exclusively to screening women for risk factors of cardiac disease.

2005

First hospital in central South Carolina to perform alcohol septal ablation therapy to treat thickening and stiffening of the heart muscle.

1974

Providence Heart Institute opens; since then, staff at Providence has performed more heart procedures than any other medical team in the state
ST. JOHN MEDICAL CENTER, WESTLAKE, OH
2010

Named one of the 20 best community hospitals in America by Becker's Hospital Review.

2009

Named one of the nation's 100 Top Hospitals and Top 100 ICUs by Thomson Reuters

2009

Recieves Distinguished Hospital Award for Clinical Excellence and Patient Safety Excellence Award from HealthGrades; Excellence in Stroke and Pulmonary Care Award from HealthGrades.

2009

Named one of 50 Best Hospitals in America by HealthGrades.

2009

One of only 120 hospitals nationwide to receive the American College of Cardiology Foundation's NCDR ACTION Registry - GWTG Gold Performance Achievement Award.

2006

First accredited hospital-based Chest Pain Center in Cuyahoga County.

1982

First hospital in Northeast Ohio to provide home-like maternity suites for labor, delivery, recovery and post-partum care.
ST. VINCENT CHARITY MEDICAL CENTER, CLEVELAND, OH
2010

Ranked in the top 5 percent of hospitals in the nation for clinical quality by HealthGrades (fifth year in a row); also received HealthGrades Excellence Awards for pulmonary care and back and neck surgery, and ranked within the top five hospitals in Ohio for spine surgery and heart failure.

2010

Emergency Department and Solon ER designated Primary Stroke Center by the Joint Commission for Hospital Accreditation (JCAHO) for the second time.

2006

The Center for Bariatric Surgery named an American Society for Bariatric Surgery Center of Excellence.

2006

Sr. Ignatia Gavin, CSA, who worked closely with Dr. Bob Smith, and co-founder of Alcoholics Anonymous is honored by the City of Cleveland with the designation of "Sr. Ignatia Way" as the secondary name for East 22nd Street. This street is also the site of St. Vincent Charity Medical Center where Sr. Ignatia established one of the first hospital-based treatment centers for alcoholism.

1994

First hospital in Ohio to make blood conservation the standard of care for all patients through its bloodless medicine program.

1956

The first successful open heart surgery in the Midwest performed using a heart-lung machine produced by a St. Vincent Charity cardiac surgeon and his colleague.

1952

Rosary Hall opens–one of the first hospital-based treatment centers for alcoholism in the U.S.
FOUNDATION MINISTRY
1996

First organization in the country to establish and sponsor a total of three health care conversion foundations to address root causes of poverty.

1973

First conversion foundation in the country, Saint Ann Foundation, was established through the sale of the St. Ann Maternity Hospital, and is the first foundation sponsored by a Catholic religious congregation.
SISTERS OF CHARITY FOUNDATION OF CANTON, CANTON, OH
2008

Based on success in its first five years in getting children ready for kindergarten, the W.K. Kellogg Foundation awards Sisters of Charity Foundation of Canton $1.5 million to extend the reach of SPARK Ohio (Supporting Partnerships to Assure Ready Kids).

2000

The first facility offering educational opportunities and supports to Stark County child care professionals in all settings, the Early Childhood Resource Center, opens as an outgrowth of the Quality Child Care Initiative.

1998

First long-term initiative in Stark County dedicated to improving early education and child care begins. Outcomes include increasing the number of nationally accredited child care centers in Stark County from one to nearly 50.
SISTERS OF CHARITY FOUNDATION OF CLEVELAND, CLEVELAND, OH
2009

Launches the Healthy Eating and Active Living (H.E.A.L.) initiative with programs that address issues of access to fresh fruits and vegetables, nutrition education for adults and families, provision of healthy snacks and meals for at-risk children in the neighborhood.

2007

Credited with bringing the first models of permanent supportive housing (Emerald Commons and others) to northeast Ohio to reduce chronic homelessness through the establishment and convening of the Housing First collaboration.

2007

One of the first community-wide initiatives to improve health literacy and reduce health disparities begins.
SISTERS OF CHARITY FOUNDATION OF SOUTH CAROLINA, COLUMBIA, SC
2002

The South Carolina Fatherhood Policy Project Office, an outgrowth of the Father Engagement Initiative, opens to address policies, practices and attitudes that are barriers for fathers and their children.

1997

Statewide Father Engagement Initiative begins to strengthen the relationship of fathers with their children and families. Outcomes include the establishment of seven fatherhood organizations in 13 sites across South Carolina.
ELDER CARE MINISTRY
REGINA HEALTH CENTER, RICHFIELD, OH
2009

Ranked ninth out of nearly 1,000 eligible nursing home in Ohio for family satisfaction with nursing home resident services.

2008

Five-star ranking in the new nursing home ranking system from the Centers for Medicare and Medicaid, based on health inspections, quality outcome measures and staffing.

1993

First state-of-the art nursing care facility for retired members of religious congregations, diocesan clergy and lay men and women opens through $7.5 million renovation of the Sisters of Charity of St. Augustine motherhouse.
LIGHT OF HEARTS VILLA, BEDFORD, OH
2010

Overall resident satisfaction rating of 95.4 places Light of Hearts in the top 20 percent of all assisted living facilities in Cuyahoga County
OUTREACH MINISTRY
HEALTHY LEARNERS, SOUTH CAROLINA
2006

First statewide network providing free health services to children from low-income families earns Catholic Hospital Association Achievement Citation and the American Hospital Association NOVA Award.
JOSEPH'S HOME, CLEVELAND, OH
2010

Celebrates 10th anniversary, having sent more than 400 men back out into the world with a renewed sense of self, better health, a place to call home, and new educational and job opportunities.

2000

Unique transitional housing facility opens for homeless men in need of a place for recovery from illness and medical treatment.
SOUTH CAROLINA CENTER FOR FATHERS & FAMILIES, SOUTH CAROLINA
2009

The U.S. Department of Health and Human Services features the Center for Fathers & Families as a "Promising Practice" in its report, Emerging Findings from the Office of Family Assistance Healthy Marriage and Responsible Fatherhood Grant Programs: A Review of Select Grantee Profiles and Promising Results.

2006

Credited with establishing the first state-funded program offering rehabilitation through fatherhood programs versus incarceration for failure to pay child support, known as Alternatives to Incarceration.

2002

First statewide organization opens to provide traditional and innovative strategies to support father engagement in the lives of their children.
CATHOLIC COMMUNITY CONNECTION, CLEVELAND, OH
2008

Catholic Community Connection formed with merger of Caritas Connection and Catholic Community Care

2002

Collaboration between the Sisters of Charity Health System and Catholic Charities Health & Human Services, Inc. integrates services provided by the health system's sponsored hospitals with community-based Catholic social service organizations and higher education (known as Caritas Connection).
Note: St. John Medical Center is jointly owned by the Sisters of Charity Health System and University Hospitals.