U.S. News & World Report names Regina Health Center a 2020-21 Best Nursing Home
---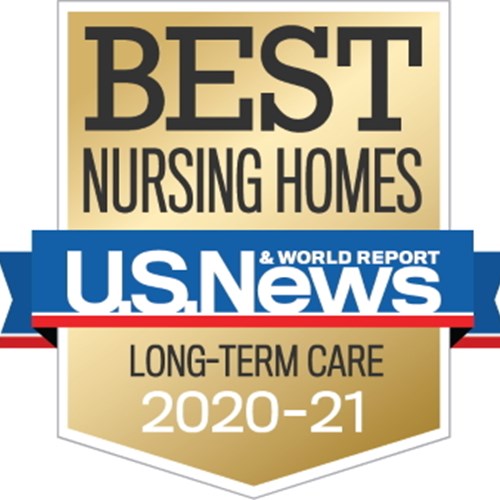 Regina Health Center is among the top U.S. skilled nursing facilities that have been recognized as a Best Nursing Home for 2020-21 by U.S. News & World Report.
Regina Health Center earned Best Nursing Homes status by achieving a rating of "High Performing," the highest possible rating, for long-term care. U.S. News gives the designation of Best Nursing Home only to those homes that satisfy its assessment of the appropriate use of key services and consistent performance in quality measures. U.S. News has named Regina Health Center a best nursing home multiple times before, including for 2017-18 and 2019-20.
Now in its 11th year, the U.S. News Best Nursing Homes ratings and profiles offer comprehensive information about care, safety, health inspections, staffing and more for nearly all of the nation's 15,000-plus nursing homes. The Best Nursing Homes ratings reflect U.S. News' exclusive analysis of publicly available data using a methodology defined by U.S. News that evaluates factors that it has determined most greatly impact patient and resident care, safety, and outcomes. This year, to accompany the new ratings, nursing home profile pages were updated to include a patient safety summary that reflects COVID-19 data alongside other measurements of safety and related advice on choosing a home or facility amidst the pandemic.
The Long-Term Care Rating aims to provide prospective residents who need help with daily activities, and their families, with analysis and information regarding the quality of care provided by nursing homes. The rating includes data on staffing, success in preventing ER visits and pneumonia vaccination rates, among other metrics.
"In such a challenging year, it's gratifying to again be recognized by U.S. News for placing among the highest level of nursing homes in Ohio and across the United States. It's a testament to the extraordinary work our caregivers and staff have been delivering to ensure we can continue to provide compassionate, quality care under difficult circumstances," said Regina Health Center Executive Director Mark Yantek. "The U.S. News ratings provide families, caregivers and patients with important information to help make a decision that keeps safety and quality of care at the highest priority."
The U.S. News Nursing Home Finder offers comprehensive information about care, safety, health inspections, staffing and more for nearly every nursing home in the country. With this tool, individuals can easily conduct a customized search for a highly rated nursing home by location, distance, Medicare and Medicaid coverage and size.
About Regina Health Center
Regina Health Center is a Medicare/Medicaid certified nursing facility with 101-licensed nursing beds, a special dementia care unit, 54 assisted living units, respite care services, and short-term inpatient and outpatient rehabilitation. Located in Richfield, Ohio, Regina Health Center provides compassionate and holistic health care services in a unique setting for people seeking a faith-based environment. Residents include members of religious communities, clergy from the Dioceses of Cleveland, Youngstown, and lay people. Regina Health Center is a ministry of the Sisters of Charity Health System. To learn more visit www.reginahealthcenter.org or call 330.659.4161.
---