The Repository: Meet Marisa Rohn, president of Sisters of Charity Foundation of Canton
---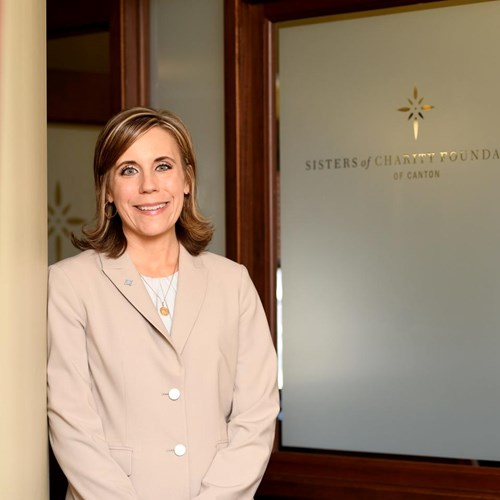 The [Canton] Repository runs a "five questions with" feature article each Sunday that showcases a member of the Stark County community. The Repository most recently featured Marisa Rohn, president of the Sisters of Charity Foundation of Canton, which is a ministry of the Sisters of Charity Health System. The full text of the article is below or available here.
"I have been in this role for about six months now, and I feel beyond blessed," she said. "I had the opportunity to learn (and still connect with her from time to time) from one of the most innovative and positive leaders in our community, Joni Close, who retired as president after onboarding me in July."
Rohn began her career working with the United Way of Central Stark County on the campaign team. After that, she spent over 11 years at Goodwill Industries of Greater Cleveland and East Central Ohio as vice president of marketing and fund development and assisted with the formation and funding of The Ken Weber Community Campus.
"I then transitioned into higher ed where I spent nearly eight years at Stark State College," she said. "Since July 2022, I have had the great honor of serving as president of Sisters of Charity Foundation of Canton. Leading the foundation is a dream career move and one that I consider to be my last. It is so rewarding to be able to get back to working in the nonprofit arena and to see how we can support those who are really making an impact on Stark County and beyond."
Rohn lives in Jackson Township with her husband of 21 years and high school sweetheart, Rich Rohn. They have two daughters, Haley, a junior in college, and Alayna, a junior in high school; and two dogs (boxers) Estabon and Duncan.
She graduated from Washington High School after which she earned her bachelor's degree in corporate communications and a minor in Spanish and a master's degree in business administration from Walsh University.
Would you share what the Sisters of Charity Foundation is all about and how it helps other organizations in Stark County?
The Sisters of Charity Foundation of Canton supports and furthers the mission and ministry of the Sisters of Charity of St. Augustine.
The principal components of their ministry are health, education and social services. We fulfill this mission and ministry through focused and intentional giving in areas that help the poor and underserved in our local communities.
Our foundation has three foundation-led initiatives that we have played a leadership role in and have been committed to for long periods of time, in one case, decades: early childhood, homelessness, and mental health. These are areas where our team gets deeply involved in the work through leadership, board and committee roles, ongoing funding and other avenues.
We also have strategic collaborations that we partner with others in the community on to address a current need or issue. We fund these areas for a period of time, with others, but do not lead.
Finally, we fund responsive grants that are based on the requests and explanations of need from our nonprofit, community partners. While our grant funding is what most people know us for, we are very involved in collaborating, convening and problem-solving in the community.
What are some of your daily job duties as president of the organization?
Today, in my role as president, I have the great fortune of working with one of the best teams and boards in Stark County. Our staff is small, but mighty, and gets involved in the focus areas of the foundation beyond just funding. Our board of directors is very strategic and are great stewards of the foundation funds.
On any given day, I collaborate with my staff and community agencies to find community solutions, work with other local funders to leverage each other's work to make the largest impact, review proposals and visit the agencies that have submitted for funding, work directly with the Sisters of Charity Health System on issues impacting our foundation and network, serve as liaison to our local ministry the Early Childhood Resource Center, and more.
Would you share your past and current involvement with Stark State College and the Stark State College Foundation?
I really have been blessed with a rewarding career. Prior to the foundation, I was vice president of advancement, human resources and partnerships at Stark State College, and executive director of the Stark State College Foundation.
I oversaw advancement, marketing & communications, human resources, career services and workforce, partnerships, and the Stark State College Foundation. I also was an adjunct professor for a few semesters.
Stark State instilled in me a strong passion for higher education and the local workforce. I think a lot of people don't understand how impactful a community college is in more than just the academic sense. Stark State connects students to in-demand careers and employers to a skilled workforce.
The college can be a strong partner in helping drive economic development through academic pathways, certificates and workforce opportunities. I really enjoyed my career at Stark State and the people I worked with, but I feel like I have been called back to the nonprofit arena to make an impact in a different way.
What is your philosophy for being involved with and serving others in Stark County?
I have been involved in the community at different levels throughout my career and in different capacities. My current philosophy having learned so much about the needs in Stark County is that if there is something I can do to move the needle on a community issue, I need to step up and get involved.
I think that is my role as president of the foundation; to connect, convene and collaborate with others to address the needs of the most underserved in our community.
One for Fun: Would you rather read a good book, lunch with friends or family or watch a movie when at home?
When I have a few spare minutes, I prefer to visit with friends and family. Nothing beats time spent with my busy teenage daughters and husband, regardless of what we choose to do, and spending time with my other family members or friends is so meaningful!
---