The Plain Dealer: 28-year-old Berea mother finds "new normal" after opioid addiction
---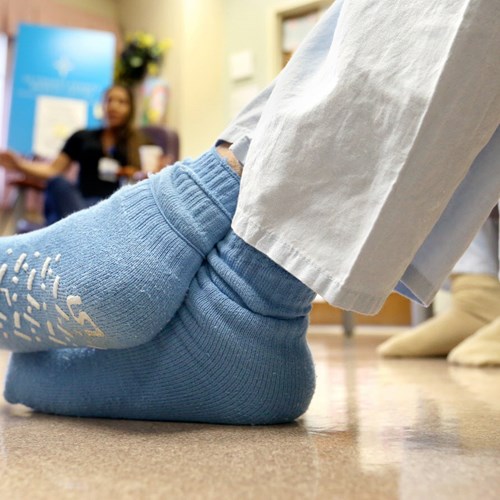 Brittany Schartz, a former patient of Rosary Hall, St. Vincent Charity Medical Center's detoxification unit, has been sober for a little more than two years and still fights each day to stay that way. She is giving back by meeting with current patients.
The Plain Dealer published the following story about her journey overcoming an opioid addiction and her work at Rosary Hall.
September 10, 2017
By Brie Zeltner
Nine men and women wearing hospital gowns and institutional nonslip socks lean, slump and slouch in chairs arranged in a semicircle, waiting for a young woman in street clothes seated in front of them to speak.
It's noon on a rainy, overcast Thursday in March in the Rosary Hall detoxification unit at Cleveland's St. Vincent Charity Medical Center. One man nods off in his chair. A woman in her 20s a few seats away pulls her robe closed over her gown and draws her pale legs up onto the chair, hugging them to her chest. She and everyone else in the room are being medically monitored while enduring withdrawal from opioids, alcohol and other drugs.
Brittany Shartz, a volunteer in the unit, twists her thick dark hair and lets it spill over her shoulder to rest on a black V-neck top, takes a sip of energy drink from the Styrofoam cup in her hand, crosses her legs and tries to break the ice.
"I remember when I was in detox I was staring at the clock the whole time waiting for the hour to be up to get out of here, so I don't want to make this boring," she says and laughs, trying to connect with the group.
No one responds.
She starts again. "My name is Brittany and I'm 27 years old, and I'm a heroin addict. I'm like an everything addict, but that's just what brought me in here."
Shartz, who began abusing opioids at 17, is here to talk about what's worked for her, she says. But she also wants to talk about something that's often glossed over in recovery stories -- what a sober life looks like, and how challenging it can be to navigate even mundane, everyday problems such as daycare and doctor's appointments when your brain and body are healing from addiction.
"How long have you been sober?" asks the woman hugging her knees. She has long, dirty-blond hair pulled up in a bun on top of her head.
Shartz does some calculations out loud -- she says she doesn't keep track because it's too easy to start feeling overconfident when you get past six months. "On April 13th it'll be 21/2 years for me."
"When I was 8 years old I was diagnosed with severe depression," she continues. "By the time I was 12 they were trying to prescribe me medications for it. I didn't want help. I didn't like going to counselors.
"I didn't know how big of an effect that was going to have on me later on in my life at the time.
"I knew I had mental health problems. That's a big part of addiction -- most people in addiction have some type of, or more than one, mental health illnesses."
"Mmm hmm," says a 26-year-old woman wearing long, pink fake nails and a tiny nose stud. She has wrapped herself in a bed sheet to stay warm in the chilly room. She nods again later when Shartz mentions how she "got in fistfights" with her ex-boyfriend when they were both using opioids heavily.
"I ended up choosing to be on a Suboxone program," Shartz says, referring to a medication that helps stem patients' urge to abuse heroin and other opioids by mimicking the effects of the drug. She quickly adds: "I don't promote any program. That's what worked for me."
"They say don't make any big life decisions your first year: I got pregnant my fourth month sober. So I ask myself if I'm capable of taking care of a kid, and I feel that I am at the time. I'm not using drugs, I'm moving forward. I'm doing everything the right way."
That included switching to a sublingual version of Suboxone called Subutex, which is considered safer during pregnancy, when she found out she was pregnant, and weaning down to a very low dose of the medication.
At birth, Shartz's daughter, Bethany, showed some signs of neonatal abstinence syndrome, or NAS, which is a group of conditions that can result from exposure to drugs -- either illegal or prescribed -- while a baby is still in the womb.
Bethany never needed treatment with morphine or other opiates to manage withdrawal symptoms, but she did spend three days in the neonatal intensive care unit at Rainbow Babies & Children's Hospital.
"It was one of the biggest awakenings of my life, being there," Shartz tells the detox group. "All the other babies were having seizures and being treated with morphine. It let me know what it could have been like."
The two young women are now paying close attention.
One says she is addicted to heroin and is in detox for the first time, and then starts to cry. One of her best friends recently delivered a baby with NAS, she says.
The other has seen the effects firsthand: Her 5-year-old son was born with the syndrome.
This is her sixth time in detox, but her first time by choice, she says.
"This is the longest I've ever stayed somewhere -- I usually leave within the first 24 hours," she tells Shartz.
Shartz can relate to that. She attempted one in-patient and several home detoxes before, and they did not go well.
The mother of the 5-year-old says her children are being cared for by family members. Before arriving at St. Vincent two days earlier, she'd spent all her time "on the street, trying to get money."
Shartz asks her what she's tried before to get sober.
"I was on methadone for years, but that's it," she says. "I never did anything else. No counseling, nothing."
On both sides of counseling
Once a month for the past five months, and more frequently in the year immediately after her detox, Shartz has attended counseling sessions as part of her recovery. On this day in May, she sits in an office at Signature Health in Warrensville Heights with Christina DiNardo, a dual diagnosis counselor.
The two talk about the struggles Shartz has faced lately, including quitting smoking to pass an employment drug screening so that she can work part-time at St. Vincent as a detoxification coach. She was offered the job in February, expecting to start in the summer.
Early in her recovery she wanted to help everyone she knew be sober, too, she said, so she completed a chemical dependency counseling certification and started volunteering at the hospital that helped her.
"It was the best thing I ever did and still is," she says. "I get more help from [going] there than from anything else."
She's grateful to have the job offer. She never thought she'd be able to work at a hospital with her criminal record -- felonies from her teen years when she was arrested with her then-boyfriend on drug-related charges.
Sitting in the soft light of DiNardo's office, where pictures of sunflowers adorn the walls and a poster of a maze reads "You will find the way," Shartz jokes that giving up cigarettes has been harder than heroin.
"Cigarettes have triggers everywhere," she says. "I'm trying to get myself over the thinking process that I can start smoking as soon as I pass the test."
DiNardo talks to her about using the same "one day at a time" thinking she uses with heroin to manage quitting cigarettes, and asks her what needs the addiction to nicotine is filling for her.
"I'll start making problems in order to have an excuse to go smoke," she says. "It was the same thing with drugs. It makes me feel bipolar sitting here arguing with myself about this when I know what's going on."
"You're not bipolar, you're ambivalent," says DiNardo. "It's normal when you're making any big change."
"Do you sit there and argue with yourself?" Shartz asks her counselor.
"Yeah, I do," DiNardo assures her. "It's completely normal."
Mental health and addiction
About a week later, Shartz drops in at an evening Alcoholics Anonymous meeting in Brook Park, one of several she attends as part of her outpatient recovery program.
She prefers women's AA meetings over Narcotics Anonymous, she says, because fewer people openly sell drugs there, and there is no chance she will get hit on by a man.
There are about 15 women at this meeting sitting at long cafeteria-style tables, most drinking cups of coffee. Shartz sits near the door and listens to a woman's "lead," or personal story of addiction and recovery, but does not actively participate.
She's on her fourth AA sponsor, after one relapsed, one moved and the other wasn't a good fit. She likes the program, but says she's bothered that even there, many people have a hard time talking about mental illness and the role it plays in addiction.
That's why she brings it up every time she talks to a group of detox patients: "It's the one thing that's like taboo about addiction. People don't want to talk about it. Half the time I have to take people individually to the social worker because they're too nervous to talk to her on their own."
A constant struggle with pain
Once a month for the past year, Shartz has been visiting a pain management doctor to receive epidural steroid injections in her spine to reduce inflammation in her back.
She needs them because about 10 months after getting sober and six months into her pregnancy, Shartz was hit by a car while driving into a parking lot. She's suffered chronic back pain since. After Bethany's birth, she also had surgery for a hernia, had her gallbladder removed and had 10 teeth pulled.
The dentist's office offered her an opioid prescription after every procedure, even though Shartz explained she was in recovery, she says.
"I feel like you get tested in every way possible and it's your job to get through that," she says.
The steroid injections have been effective, she says. But being in recovery has taught Shartz that even when you're not constantly worried about finding and buying drugs, life throws plenty of other problems your way.
In July, after starting her new job at St. Vincent, she misses a pain management appointment due to a scheduling conflict. Then in August, when it had been two months since her last steroid injection, her doctor unexpectedly cancels two appointments in the same week, one while she's at the office in the waiting room. 
With her pain mounting, a toddler to care for, and few options other than rest, ice and ibuprofen to manage her pain, Shartz starts to panic.
A few days later, she says in a text: "I'm scared. Like I know I'm not going to die and I'll get to some type of pain management but it's really starting to beat my body down quick. Bethany is sick and it literally took all my energy just to give her a bath. I don't like feeling this way at this young of an age."
To cope until her appointment, she takes hot showers, exercises and distracts herself with a dinner out with a friend, a rarity. At the visit, her doctor gives her the shot but no good explanation for the cancellations.
Making better memories as a mom 
Shartz lives on a quiet, shady street in Berea in a ranch home owned by her stepfather. She says she feels like she has a pretty normal life today. 
She rolls her eyes and laughs. "If there was a normal. I don't really know what normal is, but this to me is what it looks like."
It's a sunny Thursday morning and Bethany is playing in the living room, which Shartz's stepfather has transformed into a playroom using colorful interlocking foam tiles, baby fencing and scads of toys.
She used to worry more about Bethany's mental health, that her own depression, or her family's history of addiction, would be inherited. Both her father and maternal grandmother suffered from alcoholism but achieved long-term sobriety.
She asked Bethany's pediatrician about it, and felt better when he told her that the home environment plays a big role in whether a child develops depression and addiction, even if they have a genetic predisposition.
"If me and my stepdad were getting messed up all the time, that's all Bethany would see," Shartz says, watching her daughter punch the buttons on a remote control on the floor at her feet. From her early childhood, Shartz says she mostly remembers the bad things, like seeing her dad drink and her parents fight before they divorced.
"When my parents divorced and he got an apartment, I remember every single night I would go through his fridge and dump out half of his beers because I didn't want him to die," she says.
There were happy moments, she says, but it's the tough ones that have stuck with her, despite having a good relationship with both parents today.
She's determined to make a different set of memories for Bethany, who smiles easily at strangers and starts dancing whenever she hears music.
It's not always easy, especially when she's stressed or when Bethany's sick or testing boundaries. "I walk away a lot from her because I don't ever want to do one thing I'd regret. I'd rather walk away 100 times than blow up on my kid one time."
"Sometimes when I come home from work I drive around the block for five minutes so I can get my smiley face on because I didn't have a good day, but I don't want my daughter to know that," she says.
"It's a lot of work being sober," she says, but it's worth it.
That's why she'll go back to St. Vincent's detox unit and tell her story again to patients who may struggle to see the possibility of this future, as she once did.
Shartz knows normal is not perfect. She has a car, but it breaks down sometimes. She has free health care through Medicaid, but doctors sometimes fail her. She started smoking again but is still trying to quit. She found daycare for Bethany so she can work, but so far it's only part time so her mother and other family members are helping out.
But she says: "I feel like I have a really good life today. I have a really happy, healthy daughter. I have a stable house to live in, which is not something I was ever used to. I have a really great place to work for."
"So I mean that's like the American dream, right?"
Pictured: Detox patients at St. Vincent Charity Medical Center only a few days into withdrawal from opioids and other substances listen to the experience of Brittany Shartz, 28, who was once in their place. (Lisa DeJong, The Plain Dealer)
St. Vincent Charity Medical Center is a ministry of the Sisters of Charity Health System.
---