The Journey: Residents at Joseph & Mary's Home find peace in outdoor spaces
---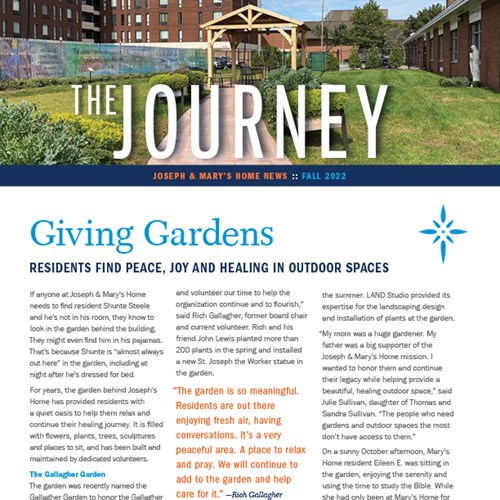 With an updated ministry name - Joseph & Mary's Home - comes an updated name for its bi-annual newsletter, which is now called The Journey. The most recent issue of The Journey features an article about outdoor healing spaces, a recap of the Perseverance in Hope fundraising luncheon, news updates and more.
Below is the text from the cover story about outdoor healing spaces. Read the complete "The Journey" newsletter here.
If anyone at Joseph's Home needs to find resident Shunte Steele and he's not in his room, they know to look in the garden behind the building. They might even find him in his pajamas. That's because Shunte is "almost always out here" in the garden, including at night after he's dressed for bed.
For years, the garden behind Joseph's Home has provided residents with a quiet oasis to help them relax and continue their healing journey. It is filled with flowers, plants, trees, sculptures and places to sit, and has been built and maintained by dedicated volunteers.
The Gallagher Garden
The garden was recently named the Gallagher Garden to honor the Gallagher family for donating both money and time to Joseph & Mary's Home over many years. Sister Joan Gallagher, CSA, was a founding member of Joseph's Home and its first executive director. She inspired her four nieces and two nephews to get involved with the ministry.
"Sr. Joan was the catalyst for our family, leading us to make donations and volunteer our time to help the organization continue and to flourish," said Rich Gallagher, former board chair and current volunteer. Rich and his friend John Lewis planted more than 200 plants in the spring and installed a new St. Joseph the Worker statue in the garden.
"The garden is so meaningful. Residents are out there enjoying fresh air, having conversations. It's a very peaceful area. A place to relax and pray. We will continue to add to the garden and help care for it," said Rich.
Thomas C. and Sandra S. Sullivan Memorial Garden
The garden has been so important to Joseph's Home residents, it inspired the creation of a similar outdoor space at Mary's Home. Thanks to a generous donation from the Sullivan family, the Thomas C. and Sandra S. Sullivan Memorial Garden was built in the summer. LAND Studio provided its expertise for the landscaping design and installation of plants at the garden.
"My mom was a huge gardener. My father was a big supporter of the Joseph & Mary's Home mission. I wanted to honor them and continue their legacy while helping provide a beautiful, healing outdoor space," said Julie Sullivan, daughter of Thomas and Sandra Sullivan. "The people who need gardens and outdoor spaces the most don't have access to them."
On a sunny October afternoon, Mary's Home resident Eileen E. was sitting in the garden, enjoying the serenity and using the time to study the Bible. While she had only been at Mary's Home for a few days, she said she had already been in the garden multiple times. "It's peaceful out here. I like the birds and being outside and feeding the animals that come along."
Eileen is 54 and experienced homelessness for the first time in her life after "putting myself in a bad situation." She said Mary's Home and the garden have been blessings for her. "God woke me up and here I am. I love that there's a garden. It's wonderful," she added.
Gwendolyn Garth, local artist and founder of the Kings & Queens of Art, a non-profit Arts Service organization, turned a chain-link fence along the garden into a 78-foot long art installation. Titled "I Am Becoming," the artwork depicts stages of transformation and women as nurturers. It also features affirmations for the residents from Gwendolyn's poem "I Am Becoming" (see the text of the poem below). Gwendolyn said her artwork is wrapped around her own recovery and healing. To develop the artwork, she interviewed residents to determine what they wanted to see on the art installation. She also drew on her experiences leading art classes at Mary's Home. The art installation was supported by a gift from Rita and Chuck Maimbourg.
Gwendolyn said she is thoroughly convinced of the therapeutic value of art. "I believe that there is a strong psychological connection between art and the human experience. Art is a vessel for self-expression and coping. Art is a way to strengthen one's sense of self and creating art gives instant gratification."
To keep the gardens flourishing and engaging residents, volunteers are key. More recently, Debbie and Tony Rovito have organized container gardening for residents as a therapeutic activity. The gardens have also been an opportunity for groups to help support Joseph & Mary's Home, particularly during the COVID pandemic when outside visitors were limited. Over the last two years, volunteers from St. Bernadette Catholic Church helped maintain the gardens and plant fall annuals.
The comfort Shunte finds in the Gallagher Garden will stay with him well after he leaves Joseph's Home. "To turn my life around, I've focused on the good things. I'll keep this garden in mind when I leave here. I'll also come back to relax to meet the new fellas and tell them about my experience," he said. "It's a place where I feel safe."
I Am Becoming
By Gwendolyn Garth
I'm Proud of
The Woman
I Am Today
Because I Went
Through
One Heck of a Time
Becoming Her
This woman I am becoming gives me chills
I'm obligated to move differently
I have work to do…
Each Day I Am Creating
a Better Version of
My Self
The Sun does not
ask permission
to shine and
neither do I
---