The Heart of Regina Health Center: Donor spotlight focuses on using social media to multiply giving impact
---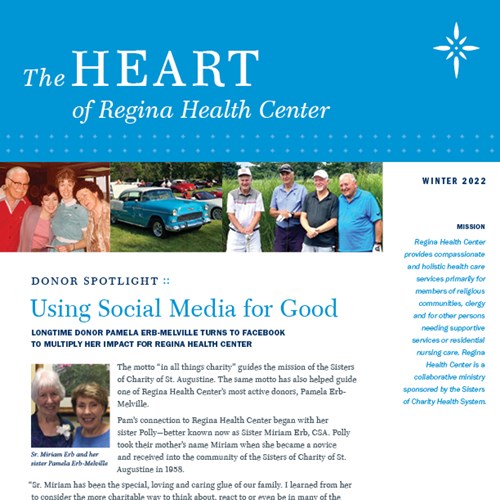 The new issue of The Heart of Regina Health Center newsletter highlights how one longtime Regina Health Center donor has used Facebook to multiply her giving impact, as well as a recap of the 2021 Holy-In-One Golf Outing, a planned new outdoor community space, news updates, upcoming events and more. Regina Health Center is a ministry of the Sisters of Charity Health System.
Read the full newsletter here.
Longtime Donor Pamela Erb-Melville Turns to Facebook to Help Multiply Her Impact for Regina Health Center
The motto "in all things charity" guides the mission of the Sisters of Charity of St. Augustine. The same motto has also helped guide one of Regina Health Center's most active donors, Pamela Erb-Melville.
Pam's connection to Regina Health Center began with her sister Polly—better known now as Sister Miriam Erb, CSA. Polly took their mother's name Miriam when she became a novice and received the community of the Sisters of Charity of St. Augustine in 1958.
"Sr. Miriam has been the special, loving and caring glue of our family. I learned from her to consider the more charitable way to think about, react to or even be in many of the ordinary activities of life," said Pam.
Pam was introduced to Mt. Augustine (the congregation's motherhouse) in 1957 at the age of 6 when she would come there to see her sister on visiting Sundays. That was the same year that Polly graduated from St. Augustine Academy and went to the convent. After receiving a Master of Arts degree in Speech/Theatre from Bowling Green State University, Pam moved to New York City to pursue acting, where she had a successful career. She toured with the National Shakespeare Company, performed off-Broadway and in soap operas, and was seen and heard in TV and radio commercials. Today, she is the president of P-E-M Communications, which trains and coaches employees in business communication skills.
As plans were being developed in the early 1990s to convert part of Mt. Augustine into Regina Health Center, Sr. Miriam provided Pam with an inside view of the transformation and then the newly opened ministry whenever she was in town from New York City. Sr. Miriam was part of the leadership team in the early planning of Regina Health Center. She is now the vice president of mission and ministry at St. Vincent Charity Medical Center.
"I had many a meal in the dining room with the residents and celebrated some wonderful services in the chapel at holiday time. Regina Health Center, the building and the grounds, became familiar all over again," said Pam. "This was a different relationship and feeling than when I would visit Polly in the novitiate so many years ago."
Pam began making monthly donations to Regina Health Center many years ago. As a fan of yoga and the "body, brain and spiritual connection to God that can be explored during yoga," she supported a chair yoga activity for several years. More recently, Pam said she was intrigued by the opportunity offered by holding a Facebook fundraiser. She has created a "Pam's birthday fundraiser" on Facebook for the past two years, requesting donations from friends prior to her birthday.
"If they knew me, they knew the story of my sister Polly, aka Sr. Miriam. They knew how important she has been to me throughout the many stages of my life in New York City, my careers, my marriage. I set the goal at $2,500, which seemed substantial. I prayed I would meet it and thankfully have surpassed my goal both years," said Pam. "They have not just honored my birthday. They knew firsthand about the kind, loving and charitable person Polly is. They used this fundraiser for Regina Health Center in the honor of Sr. Miriam to acknowledge Polly and all she means to them. I have been deeply grateful and moved."
Pam said she is happy to do her part to help the mission of Regina Health Center in providing compassionate health care. "As I age and look to what the future holds, I am at peace knowing that I have contributed, in a small way, to a safe, loving transitional home that feeds the body, mind and soul of so many special people."
She added, "Thank you, Polly, for your love and leadership and for just being my sister."
---