The Heart of Regina Health Center: donor spotlight focuses on encouraging employee recognition and advancement
---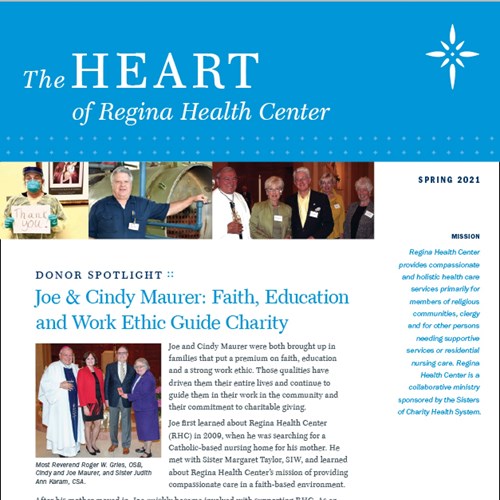 In the new issue of The Heart of Regina Health Center newsletter, two donors who are encouraging employee recognition and advancement are featured. Executive Director Mark Yantek writes about finding the silver linings during trying times and there is a story about Director of Maintenance Bill Vorndran retiring after 48 years. Read the complete newsletter for additional news, upcoming events, stories of how Regina Health Center carries out its mission, and more. Read the full newsletter here.
Regina Health Center is a ministry of the Sisters of Charity Health System.
Joe and Cindy Maurer were both brought up in families that put a premium on faith, education and a strong work ethic. Those qualities have driven them their entire lives and continue to guide them in their work in the community and their commitment to charitable giving.
Joe first learned about Regina Health Center (RHC) in 2009, when he was searching for a Catholic-based nursing home for his mother. He met with Sister Margaret Taylor, SIW, and learned about Regina Health Center's mission of providing compassionate care in a faith-based environment.
After his mother moved in, Joe quickly became involved with supporting RHC. As an avid golfer, he was a natural fit with the Holy-In-One Golf Outing. When asked about being a sponsor for the golf outing, he didn't hesitate to say yes. He and Cindy have been involved with RHC ever since. Joe currently serves as the president of the Regina Health Center Board of Directors and is a longtime member of the finance committee. In the community, Joe and Cindy are active parishioners at St. Basil the Great Catholic Church in Brecksville.
Education—and ongoing education—has long been important to both Cindy and Joe. Cindy graduated from Beaumont School in Cleveland Heights and Joe from St. Peter Chanel Catholic High School in Bedford. Cindy went on to receive a mathematics degree from the University of Arizona and spent most of her career at Eaton Corporation as a lead programmer and systems analyst.
Joe graduated from John Carroll University with an accounting degree and then earned a Master of Business Administration degree in finance and organizational behavior from the Weatherhead School of Management at Case Western Reserve University. As a Certified Public Accountant, Joe served as the chief operating officer of FISERV Cleveland, which was one of the first companies to provide online real time data processing to banks and savings and loans. After leaving FISERV, Joe started Maurer & Associates, Inc., a financial planning and tax consulting firm.
As part of their commitment to education, Joe and Cindy established a fund for employee recognition and advancement to encourage employees to stay and grow with RHC.
"My favorite way to donate is to encourage employees to do their best. This is the reason for the Regina Health Center Employee of the Month award program. In many businesses and health care settings, I see employees not being appreciated as much as they should be. We both believe in solid career paths for all deserving employees," said Joe.
Joe and Cindy started donating to the employee of the month and year in 2019. They helped make the 2020 Employee-of-the-Year luncheon more special by making a $250 gift to each employee who was named an employee of the month in 2020. They also gave an extra $250 to John Robb in the maintenance department, who was named the employee of the year. In addition, they paid for Christmas presents for all employees.
In a video played at the luncheon addressing RHC employees, Cindy added, "Joe and I are very fortunate and grateful to be able to donate to the Employee Recognition program. We believe you make the difference. We want you to understand that our residents need your dedication to help them through their personal life's journey."
---