The Heart of Regina Health Center: 2022 Golf Outing Honoring Bishop Roger Gries is August 18
---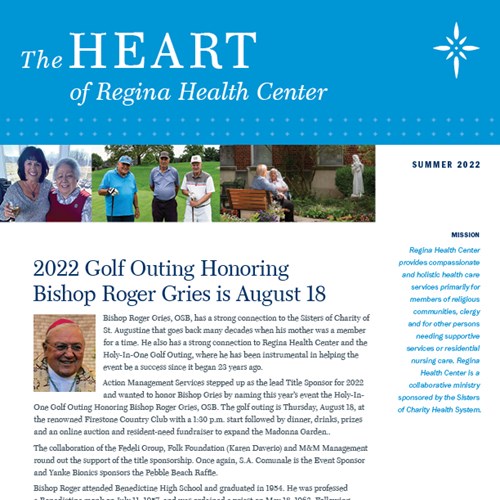 The new issue of The Heart of Regina Health Center newsletter highlights the annual Holy-In-One Golf Outing, which is August 18, as well as an article about a prayer program that helps residents connect and get "untangled," a spotlight on a rehab patient, news updates and more.
Regina Health Center is a ministry of the Sisters of Charity Health System.
Read the full newsletter here.
Bishop Roger Gries, OSB, has a strong connection to the Sisters of Charity of St. Augustine that goes back many decades when his mother was a member for a time. He also has a strong connection to Regina Health Center and the Holy-In-One Golf Outing, where he has been instrumental in helping the event be a success since it began 23 years ago.
Action Management Services stepped up as the lead Title Sponsor for 2022 and wanted to honor Bishop Gries by naming this year's event the Holy-InOne Golf Outing Honoring Bishop Roger Gries, OSB. The golf outing is Thursday, August 18, at the renowned Firestone Country Club with a 1:30 p.m. start followed by dinner, drinks, prizes and an online auction and resident-need fundraiser to expand the Madonna Garden. The collaboration of the Fedeli Group, Folk Foundation (Karen Daverio) and M&M Management round out the support of the title sponsorship. Once again, S.A. Comunale is the Event Sponsor and Yanke Bionics sponsors the Pebble Beach Raffle.
Bishop Roger attended Benedictine High School and graduated in 1954. He was professed a Benedictine monk on July 11, 1957, and was ordained a priest on May 18, 1963. Following his ordination, he earned a Master's Degree in Education from Loyola of Chicago. He served Benedictine High School as teacher, coach, bus driver, principal and president from 1964-2001. After serving as Abbot for 20 years, Bishop Roger was preparing to retire from this position when he received the invitation from Pope John Paul II to serve as Auxiliary Bishop of Cleveland on April 3, 2001. He was ordained bishop on June 7, 2001.
In March 2012, on his 75th birthday, he submitted a letter of resignation to Pope Benedict XVI as required by Church Law. After one year and seven months, Pope Francis accepted his resignation on November 1, 2013. This resignation relieved him of diocesan administrative duties. However, he has continued to function as a bishop in whatever way he could to assist Bishop Perez and now Bishop Malesic with confirmations, jubilees, funerals and other celebrations. Bishop Roger turned 85 in March. Bishop Roger's participation in golf as well as connecting many new donors and friends to Regina Health Center has been critical to raising the essential dollars needed to support residents who call Regina Health Center their home.
"Over the 23 years that he has been involved with Holy-In-One, we have been able to purchase new medical equipment, resident beds, a new van and last year secured gifts to build an outdoor pavilion in our Madonna Garden. We are grateful to Bishop Roger for his many years of support and are thrilled he is being honored at this year's golf outing through the generous support of Action Management Services as the lead Title Sponsor and our many other generous sponsors," said Mark Yantek, Regina Health Center executive director.
---