Support from the Sisters of Charity Foundation of Canton and Early Childhood Resource Center helps stabilize child care center operations
---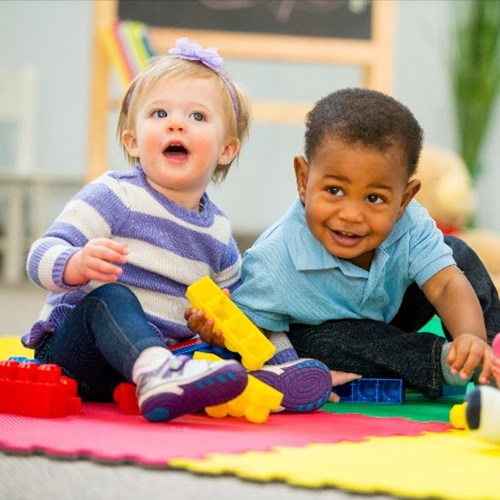 Early childhood staffing and finances have always been challenging. Even before the pandemic, many centers were struggling to stabilize operations. To provide local support, the Sisters of Charity Foundation of Canton funded a pilot project that helped the directors of 10 Stark County child care centers stabilize workforce retention and financial viability. The Early Childhood Resource Center (ECRC) is operating the project. Both the foundation and ECRC are ministries of the Sisters of Charity Health System.
Angela Moses, ECRC director of early care and education services, and Karen Foster-Jorgensen, an international expert on early childhood business operations and consultant on the project, attended the foundation's recent board meeting to provide an update as the project ends its first year.
According to Karen, many early childhood directors started out as really good early childhood teachers. As they advanced in their careers, they went from teaching to operating small businesses. They didn't study business, and many had never managed employees. While they may be experts in early childhood best practices, they can greatly benefit from training on the many other responsibilities a director's role requires, including finances and human resources.
The participating directors received help on three fronts:
Local business consultant Mark Plaster helped them address workforce challenges by teaching them strategies for staff attraction and engagement and helping them devise plans to implement those strategies. Turnover is a pervasive concern. The participating centers averaged 43.4% turnover as the project began. Key to reducing turnover is ensuring staff feel invested and engaged. Participants learned to conduct "stay interviews" with individual staff members to understand what will help them feel engaged and committed. They also incorporated staff appreciation techniques, increased staff autonomy, and strengthened onboarding efforts.
Karen helped them address financial and operational challenges. They learned how to maximize revenue by developing realistic budgets, pursuing grant funding, adjusting tuition so it's in line with costs, and using marketing strategies to keep classrooms filled.
ECRC staff were there to provide support and technical assistance throughout the year, and to help with planning and reflection.
Karen says that all the directors have grown in both competence and confidence; she's very proud of the progress they've made. Using the skills gained during project participation, all of the directors were able to increase their revenue, and they've increased wages by an average of 8.4%.
As the program's second year begins in January, some of the pilot-year directors will continue participating, and a new cohort will be brought on to begin exploring opportunities for growth.
---