St. Vincent Charity Medical Center unveils center for robotic joint replacement
---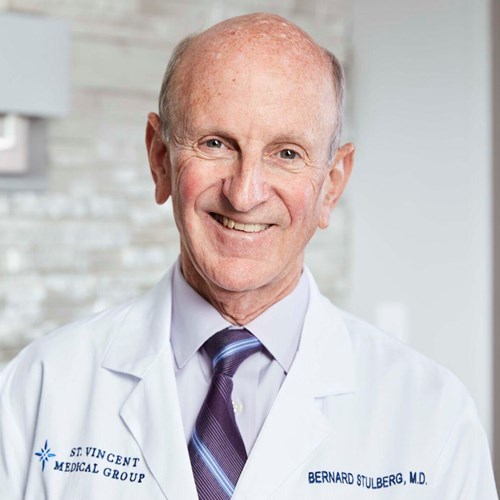 As reported in Cleveland Jewish News
Under the leadership of Dr. Bernard Stulberg, St. Vincent Charity Medical Center has launched its Robotic Joint Center as part of its Spine and Orthopedic Institute, allowing for same-day knee replacement at both the hospital's downtown location and the Brainard Surgery Center in Lyndhurst.
What started as a national trial in which Stulberg was one of only five physicians to test the THINK Surgical Inc. TSolution One Total Knee Application, St. Vincent is the first hospital in Ohio to implement this technology for total knee replacement. TSolution One Total Knee Application received clearance from the U.S. Food and drug Administration last year as the only active robotic technology to be approved by the federal agency. The center is accepting patients and could see surgeries beginning as early as this month. It also includes a cadaver lab to train surgeons across the country, with a focus on ways robotic surgery can be safely and effectively expanded for use in other orthopedic procedures.
Stulberg, of Chagrin Falls, and a member of B'nai Jeshurun Congregation in Beachwood, told the Cleveland Jewish News May 7 that there have been successes in joint replacement surgery using these types of artificial devices, but there is a focus on trying to streamline patient outcomes and recovery – lending itself to outpatient surgery.
"From a safety standpoint, one of the things we see in clinical trials is knowing where the tool is going to go and knowing it's limited (more precise) is safer for the tissues," he said. "It allows us to directly manage that, so the actual undertaking in the recovery can be a lot quicker."
One of the major benefits of this robot is that it isn't "married to just one system," Stulberg said, making each surgery even more personalized than ever before.
"Most robots on the market are dedicated to a specific device or system," he said. "This particular robot is on an open platform, so it can allow us to choose among the implants that look like they'd fit for each patient."
Described as a milling-type and plan and execute-type robot, it uses a plan base to know exactly where to mill on each patient and knows where parts need to be positioned using CT scanning to determine exact bone geometry. These technologies allow surgeries to become more streamlined, Stulberg said.
"Our robotic center allows us to work on several issues related to obtaining predictable and successful joint replacement procedures for all patients," he said. "These three-dimensional technologies help all surgeons be more accurate, but this particular robot has the potential to make all of us very consistent from surgeon to surgeon in what we do. And our patients can then be serviced much closer to home. So, we felt the combination of new technologies would appeal to patients and allow us to bring predictability to these environments."
Stulberg said as the need for knee and joint replacements increases over the next decade, using robotic technology like the TSolution One Total Knee Application allows surgeons to become better at their craft. This makes time for more surgeries to take place without putting a burden on available surgical staff, according to Stulberg.
"The planning that goes into that type of activity allows not only surgeons but also the team they work with to help improve everything around a knee replacement, impacting the patient's experience and allowing for a successful outcome," he said. "The United States is closing in on about one million knee replacements a year, if you double that in another decade, we won't have the physician workforce to do it. So, technologies like this allow us to be able to do it consistently and in a way that the workforce can be optimized."
St. Vincent Charity Medical Center is a ministry of the Sisters of Charity Health System.
---