St. Vincent Charity Medical Center launches centralized access for behavioral health services
---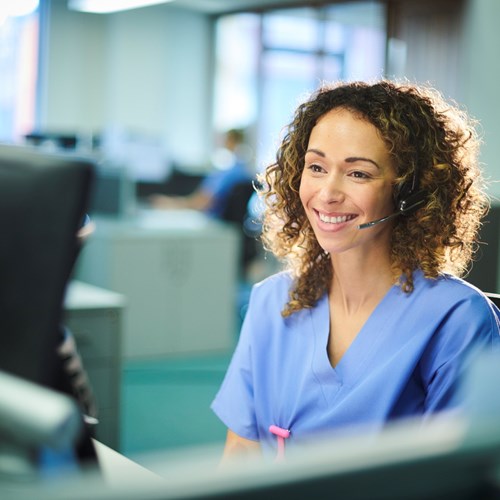 St. Vincent Charity Medical Center (SVCMC), which is home to Rosary Hall – one of Ohio's first and best hospital-based addiction treatment centers – has unveiled new centralized access to behavioral health inpatient services.
"Centralized access offers a single point of entry to any of St. Vincent's 27 inpatient detoxification beds and 64 inpatient psychiatry beds," said Megan Bush, MBA, LISWS, director of intake and access, behavioral health, SVCMC. "The new model promises a swift and linear intake process for referrals from other hospitals, SVCMC providers, external agencies and individuals seeking services on their own."
Referring partners, as well as community members with mental health questions, can call 216-363-2580 to reach centralized access, which is staffed 24 hours a day, seven days a week, year-round.
SVCMC's centralized access for behavioral health is located alongside the hospital's emergency department and is dedicated to providing high-quality evaluations for the entire continuum of care. The service provides the community with reliable, professional triage and assessment by mental health professionals.
Services include:
Expert mental health and substance abuse assessment and treatment recommendations of individuals presenting to the emergency department.
Round-the-clock clinical telephone triage and response.
Facilitation of clinical review and admission of psychiatric and detoxification referrals from other hospitals and community agencies.
Response to inquiries about inpatient care, outpatient care and community services.
Insurance pre-certification and authorization for mental health services.
Once admitted and stabilized in the appropriate level of care, patients are transitioned to the next level of service consistent with their needs.
"We are dedicated to providing the right care at the right time, consistent coordination for care transitions and supports that address the social determinants of health," said Michael J. Biscaro, Psy.D., ABPP (Forensic), chief of behavioral health, SVCMC. "Centralized access is one more step in our transformation to provide a person-centered approach to care, and expand our service continuum to better meet the needs of the complex population we serve."
Behavioral Health at St. Vincent Charity Medical Center
SVCMC offers a variety of inpatient and outpatient services to those in need of behavioral health treatment, whether for psychiatric or substance use disorders. Current services include inpatient psychiatry, inpatient detoxification, medication-assisted treatment, partial hospitalization program, intensive outpatient program and outpatient psychiatry, as well as newly added services in outpatient dual diagnosis and outpatient mental health treatment.
SVCMC addiction treatment, known as Rosary Hall, has been at the forefront of treating drug dependency for more than 65 years – treating more than 100,000 individuals with the compassionate care that is the hallmark of SVCMC.
SVCMC's Psychiatric Emergency Department (PED) is a critical safety net service, and is one of two in the State of Ohio and one of only seven in the nation. It is the most efficient method to assess the acute psychiatric needs of people transported by law enforcement and health care agencies from 59 municipalities.
St. Vincent Charity Medical Center is a ministry of the Sisters of Charity Health System.
---