St. Vincent Charity food service department turns COVID-19 restrictions into community outreach opportunity
---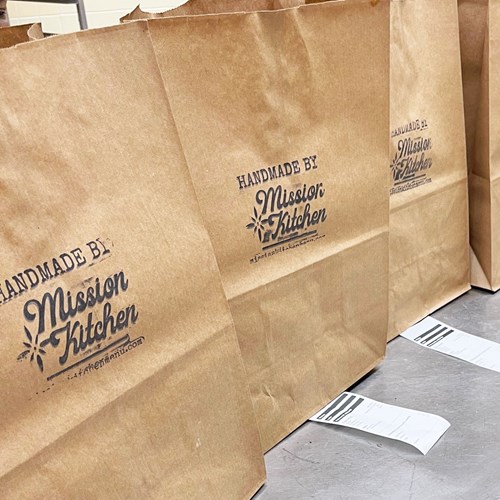 COVID-19 safety measures at St. Vincent Charity Medical Center required the cafeteria to limit seating and only allow access to employees. While the safety protocols were necessary, the impact was felt beyond the walls of the medical center. Many of the hospital's neighbors frequently visited the hospital cafeteria because it's a convenient, affordable option and one of few places in the neighborhood that serves freshly cooked, home-style meals. In February, the hospital's food services team launched Mission Kitchen, an online grab-and-go menu for caregivers that funds meals for families in the Central Neighborhood.
Mission Kitchen is an online menu for hospital caregivers served as grab-and-go meals. Proceeds from online orders provide meals for families in the Central Neighborhood. In addition, caregivers can add a $10 Mission Meal to their order, which feeds a family of four in the community.
"The response has been bigger than we anticipated. Our initial plan was to provide weekly meals for ten families of four. After three weeks of online orders we realized we could increase the number of families we are serving," said Andy Cooper, executive chef at St. Vincent Charity and co-founder of Mission Kitchen. "The generosity of the St. Vincent family continues to blow me away."
The Mission Kitchen team is partnering with Cuyahoga Metropolitan Housing Authority, the Friendly Inn and Marion-Sterling Elementary School to distribute Mission Meals on a weekly basis. During the first month, more than 100 family-style meals were delivered throughout the community.
"This program embodies everything we try to achieve as healthcare food service professionals," said Jay Williams, director of food and nutrition services at St. Vincent Charity. "Food gives caregivers a much-deserved break during their day, it provides patients with strength and healing, and for our neighbors it brings comfort and well-being. We couldn't take these things away a time when people need them the most."
How to Support Mission Kitchen
Grab-and-go meals are currently only available to caregivers and patients and their designated visitors, but you can still support Mission Kitchen by purchasing a Mission Meal.
Visit the Mission Kitchen website http://missionkitchenmenu.com/
Click on "Donate a meal today"
Click the meal option and choose donation amount
St. Vincent Charity Medical Center is a ministry of the Sisters of Charity Health System.
---