St. Vincent Charity first hospital in Ohio to perform total knee replacement procedures with next-generation robot system
---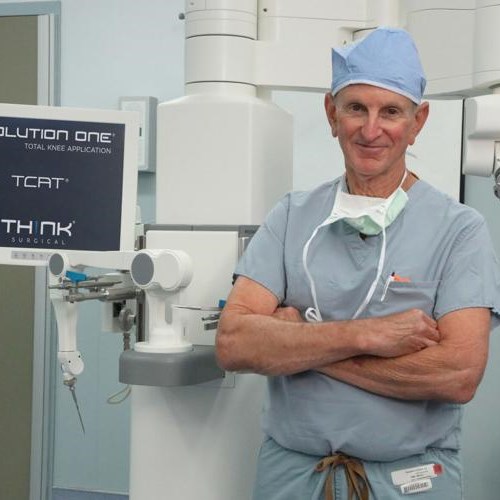 St. Vincent Charity Medical Center is among the first health care facilities in the United States and the first health care facility in Ohio to utilize the second-generation TSolution One® Total Knee Application for total knee arthroplasty (TKA) from THINK Surgical, Inc. Bernard Stulberg, M.D., an orthopedic surgeon with the Spine & Orthopedic Institute at St. Vincent Charity, performed the first procedure with the new system in late August. THINK's TSolution One robot system for TKA supports an open implant library, giving surgeons a choice of implants from different manufacturers, facilitating greater patient customization.  
"One of the major benefits of the TSolution One system is that it gives surgeons the ability to customize every patient's procedure more than ever before," said Dr. Stulberg. "While other robotic-assisted devices on the market only work with implants from a single manufacturer, this system allows surgeons to select implants from a variety of manufacturers depending on the individual needs of each patient. The accuracy provided by the robot while preparing the bone for the joint implant helps to ensure precise implant placement, which may improve patient mobility and longevity of the construct. It's undoubtedly a game-changer for total knee replacement procedures."
The first-generation TSolution One has been in use at St. Vincent Charity Medical Center since August of last year. Recently, St. Vincent Charity Medical Center launched its Robotic Joint Center as part of its Spine and Orthopedic Institute. The Center allows for knee replacement at the hospital's downtown location and the Brainard Surgery Center in Lyndhurst.
"St. Vincent Charity is committed to improving patient experience and outcomes through the use of technological advancements that enable us to deliver the highest quality care," said Jan Murphy, president and CEO, St. Vincent Charity Medical Center. "The addition of this next-generation TSolution One demonstrates our dedication to the future growth of the Robotic Joint Center and our commitment to accommodate the increasing demand for same-day joint replacement procedures."
---