St. Vincent Charity director of community outreach honored as an unsung hero by Cleveland Public Library and WOIO 19 News
---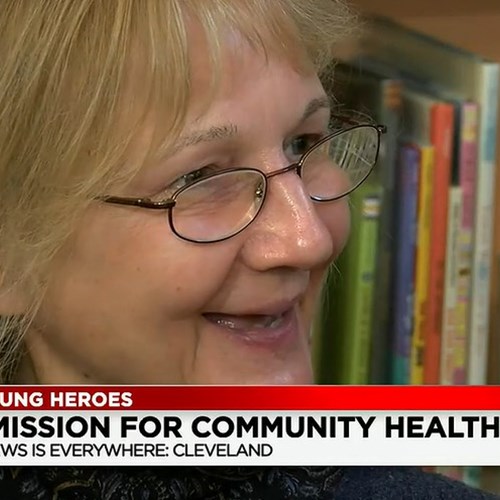 St. Vincent Charity Medical Center Director of Community Outreach Cathy Kopinsky was honored by the Cleveland Public Library as an unsung hero for her work in improving community health. Cleveland Public Library, in partnership with WOIO 19 News, recognized everyday Clevelanders who have worked tirelessly to improve the quality of life in Cleveland during the 37th Annual Dr. Martin Luther King, Jr. Commemorative Celebration.
In her role in mission outreach, Cathy serves Cleveland's Central neighborhood. In this vital role, and with a limited budget, Cathy is a staff of one. In her leadership role of more than 40 years, she has organized thousands of events, gift drives, school carnivals, community meals, meetings and health screenings. In 2020, the Ohio Hospital Association (OHA) honored her as a nominee for the The Albert E. Dyckes Health Care Worker of the Year Award.
"Neighbors helping neighbors. This year's honorees are beacons of hope in our community," said Felton Thomas, Jr., executive director and CEO of Cleveland Public Library. "For the second year, the library has collaborated with WOIO to create a program that embodies the teachings of Dr. Martin Luther King, Jr. and the spirit of Cleveland."
The text of the article from cleveland19.com is below. The video and article are available here.
Catherine Kopinsky honored as a 2022 Unsung Hero by Cleveland Public Library
By Sia Nyorkor
WOIO-TV Cleveland 19 News
Cathy Kopinsky does not like being in the spotlight.
But as a long-time servant of the Northeast Ohio community, it's hard to miss her.
"Use your talents to the utmost, and be who you can be and serve the people with what talents you have, because everybody can do something, it doesn't matter," she said.
The project coordinator for the Mission Outreach program at St. Vincent Charity Medical Center has been doing this work for more than three decades, including blood pressure and diabetes checks and leading events for the students at Marion-Sterling Elementary School.
She said the best part of her job is connections that have turned into lifelong friendships and the people.
She shared the following statement:
"When I started. I really did not know the community. And there, you know, we always have a little trepidation, but you just kind of go out and people, I had people, a lot of the folks in the community would realize that and they would say, 'Come on, honey, I'll show you where to go.' Or, 'honey, I'll take care of you.' And I made such good friends.
So and the other part of it was, you know, sometimes, especially when you're new in outreach, you want to go in and just save everybody. Well, I found out that they don't need people don't need saved, this community doesn't need saved. They have strength, and they have resources and they have hope and they have so much to give.
And I think it's just being with them to walk with them as they're giving and being a part of the strength in the hope."
St. Vincent Charity Medical Center is a ministry of the Sisters of Charity Health System.
---