Sr. Judith Ann Karam, CSA, joins other faith-based leaders in promoting the census during 2020 Census Faith Communities Weekend of Action
---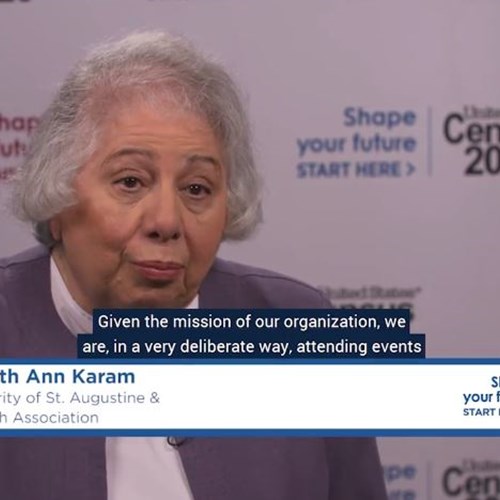 This weekend, March 27-29, is the 2020 Census Faith Communities Weekend of Action. Sister Judith Ann Karam, CSA, congregational leader for the Sisters of Charity of St. Augustine, shared a video message about the importance of the census and the vital role faith leaders can play in sharing information about the 2020 Census with congregants, members and community this weekend and beyond - and encourage them to respond to the 2020 Census now.
Once a decade, the U.S. Census Bureau counts everyone living in the United States and its territories. The decennial census has tremendous significance for communities across the country. Census data informs congressional representation, the distribution of more than $675 billion in federal funding each year, local government planning, business decisions and more.
One of the biggest challenges is getting responses from historically hard-to-count populations, including members of racial and ethnic minority groups, people who rent their home, rural residents, non-English speakers, households with children under age 5, and people living in complex households. Faith-based organizations serve communities across the United States, including many of those hard-to-count populations, and play an integral role in spreading the word about the importance of the 2020 Census.
That's why the U.S. Census Bureau created a faith communities 2020 Census action guide to provide content that can be shared to help people understand how and why responding to the census is easy, safe and important. This short guide provides information about how to promote the 2020 Census among the faith community and includes materials like handouts and FAQs that can be used to inform audiences about what the census is and why it's important for everyone to participate.
The Faith Communities Census Weekend of Action was chosen as a focal point for faith leaders to share information about the 2020 Census, and we encourage you to promote the 2020 Census at your place of worship and in emails, newsletters, video messages, blogs, social media and websites.
Additional Resources:
About the 2020 Census
The U.S. Constitution mandates a census of the population every 10 years. The 2020 Census will count everyone who lives in the U.S. as of April 1, 2020. Census statistics help determine the number of seats each state holds in the U.S. House of Representatives and how billions of dollars in federal funds will be allocated by state, local, and federal lawmakers every year for the next 10 years.
---