South Carolina Center for Fathers and Families selected to participate in 2021 A Community Thrives challenge
---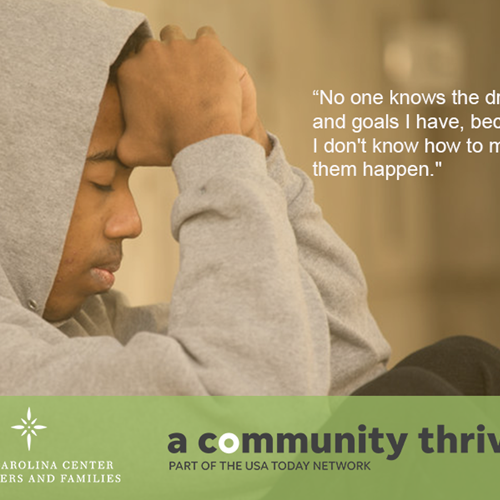 The South Carolina Center for Fathers and Families has been selected for a second time to participate in the USA Today A Community Thrives challenge. In addition to money raised through direct donations to the center and incentive grants through the center's page on the A Community Thrives website, this crowdfunding challenge awards funding up to $100,000 to nonprofit initiatives focused on building stronger communities across the country. To unlock eligibility for the possible $100,000 grant, the center must first reach a crowdfunded goal of $6,000 before noon on August 13. There are also incentive grants for the top fundraisers in each tier and additional bonus challenge grants.
The center's initiative proposal is to implement Reality Check, a program focused on family strengthening (healthy relationship education, parenting skills, job and career advancement) and improving outcomes for young men in the Midlands region of South Carolina. The nine-week evidence-informed curriculum was created by the center to develop the program for young men and will be conducted at area high schools and colleges.
The center plans to use donations and the possible grant funding for Reality Check from A Community Thrives for participant recruitment and a marketing campaign to increase public awareness of the impact of father absence on children, families and communities.
About A Community Thrives
A Community Thrives is a nationwide grantmaking and crowdfunding initiative that was started to give great ideas for how to improve community a large network of people to bring them to life. A Community Thrives offers a way to get neighbors, friends, family and peers excited to support community-building ideas, and most importantly, a chance at more than $2 million in grants to get them off the ground and running.
About the South Carolina Center for Fathers and Families
The South Carolina Center for Fathers and Families provides funding, curriculum, advocacy and training for a network for fatherhood programs across the state. All of these programs provide direct services to help ensure the safety, economic stability and well-being of fathers and their children. Donate to the center's Reality Check crowdfunding challenge here.
The South Carolina Center for Fathers and Families is a ministry of the Sisters of Charity Health System.
---