South Carolina Center for Fathers and Families launches fourth-annual Reel Connection Campaign
---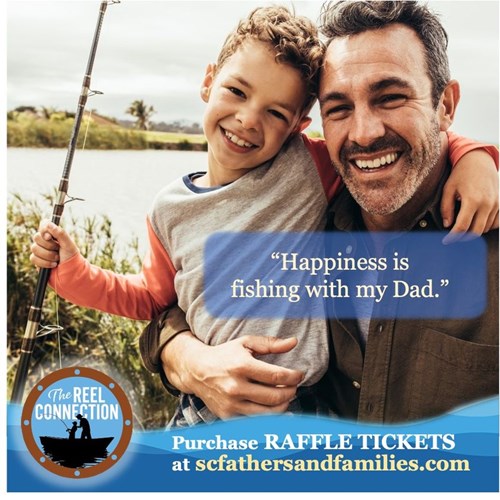 The South Carolina Center for Fathers and Families (SCCFF) recently launched its fourth-annual Reel Connection campaign to support the center's fatherhood programs and celebrate the importance of fathers spending quality time with their children. The highlight of the campaign is a chance to win a unique day-long father-child fishing trip with Bassmaster Davy Hite.
Davy Hite is the 1999 Bassmaster Classic Champion, two-time Bassmaster Angler of the Year and, in 2016, he became cohost and analyst for "Bassmaster LIVE" and "The Bassmasters" television show on ESPN2. When not on the water or on the airwaves, he is a father to two sons.
The grand prize is a day on the lake with Davy for a father and child. Only 250 grand prize tickets are available for purchase at $100 each. One of two Reel Connection prize packages (valued at over $500 each) are available with a $50 raffle ticket for the chance to win a professional rod, reel, bait and lure assortment, and an American flag hat autographed by Davy.
Quality time spent between a father and a child is invaluable. Even simple activities – like a day of fishing – can create memorable moments that shape a child's future. SCCFF fatherhood programs help fathers build rewarding relationships with their children. When fathers are present, children thrive, families grow strong and communities prosper.
Father absence can be linked to most societal ills, including child poverty, substance abuse and teen pregnancy. Too many children grow up without knowing the love and support of their father. SCCFF works every day to change the statistics for children in South Carolina.
Learn more about the campaign and enter to win here. Entries must be received by August 31.
The South Carolina Center for Fathers and Families is a ministry of the Sisters of Charity Health System.
---