Sisters of Charity Foundation of South Carolina response to COVID-19
---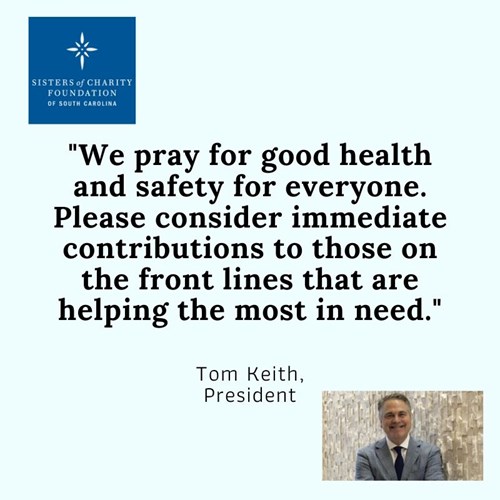 Following is a message from the Sisters of Charity Foundation of South Carolina in response to the COVID-19 pandemic.
Dear Friends,
In this time of uncertainty and crisis, there will be a great demand on our nonprofit community throughout the state. More people will seek services than normal due to school closings, lack of childcare, potential job losses and a myriad of other reasons including unpredictable health challenges. During this time, our nonprofit communities will step up and help all people in need but their resources are limited. We encourage everyone to continue to financially support organizations as they deal with higher volumes. Our state's free clinics, food banks, shelters, and many other basic need services need us now.
The Sisters of Charity Foundation is doing everything possible to support and help these organizations. Unfortunately, in a crisis situation our most vulnerable populations are hit the hardest. We pray for good health and safety for everyone. Please consider immediate contributions to those on the front line that are helping the most in need.  For a listing of our Foundation's grantee partners, please visit our website here.
Thank you for your compassion, respect and support of our neighbors in need and the courageous people that serve them.
Tom Keith, President
Sisters of Charity Foundation of South Carolina
---