Sisters of Charity Foundation of South Carolina highlights its anti-poverty advocacy agenda
---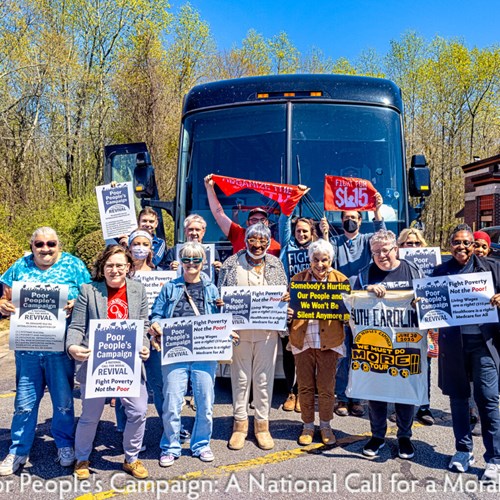 The Sisters of Charity Foundation of South Carolina's mission is to reduce poverty through action, advocacy and leadership. With its inaugural Anti-Poverty Advocacy Agenda as a guide, the foundation continues to build pathways to meaningful engagement in advocacy work. A recent blog post highlighted how the foundation works with partners to advance anti-poverty advocacy work.
The foundation, which is a ministry of the Sisters of Charity Health System, is a statewide grantmaking entity and is committed to ushering change in systems that have created barriers and structures that cause or exacerbate poverty for South Carolinians.
Following is the content of the blog post, which is also available here.
With our inaugural Anti-Poverty Advocacy Agenda as a guide, the Foundation continues to build our pathway to meaningful engagement in advocacy work. That journey and our understanding of how to be effective in this work has reinforced what we have always known to be true: the center of this work is you. Your organizations. Your voice. Your individual desires to improve the lives of those around you. We are committed to working alongside you in this work to understand how to further affect deep and lasting change.
State House
Your power and voice have already made a phenomenal impact. The South Carolina Fair Lending Alliance's hard work and advocacy has resulted in the introduction of H.5137. We thank Rep. Cobb-Hunter for her work on this legislation and for standing up to protect our teachers, nurses, restaurant workers, elderly and other SC citizens from predatory lending practices. Additionally, community members and organizations have partnered with state legislators to support paid family leave with the continued progression of H.3560 and S.11. The leadership of Women's Rights & Empowerment Network has been fundamental to the movement of this legislation and we appreciate their work to support families and children in our state.
Grassroots Community
South Carolina Association for Community Economic Development, along with three other non-profit partners, Increasing H.O.P.E (Helping Others Prosper Economically), Center for Heirs Property Preservation, and Homes of Hope, Inc, unveiled their Opportunity Center. The center will focus on impacting communities experiencing low-wealth in the Tri-County region of the lowcountry and will offer workforce development, small business incubators, and coworking spaces for entrepreneurs and start-ups. Individuals from across our state traveled to Raleigh, North Carolina to participate in the Poor People's Campaign march to fight for individuals who are experiencing poverty. This event provided a platform for individuals to advocate for policies that aim to uplift and inspire positive change for those living in poverty.
Let us know what is happening in your community!
Each of these highlights speak to the value and impact of partnership paired with a passion to serve. As we continue to move through this new year and face new challenges, we want to ensure that we uplift opportunities for our communities to remain engaged and inspired. You are the expert of your own community, and we welcome your thoughts, ideas, and conversation to further the Foundation's mission to reduce poverty in South Carolina. We encourage you to reach out to SK DeVenny, our Community Outreach Coordinator, at skdevenny@socsc.com to share your insights and knowledge.
---