Sisters of Charity Foundation of Cleveland welcomes program officer, health equity
---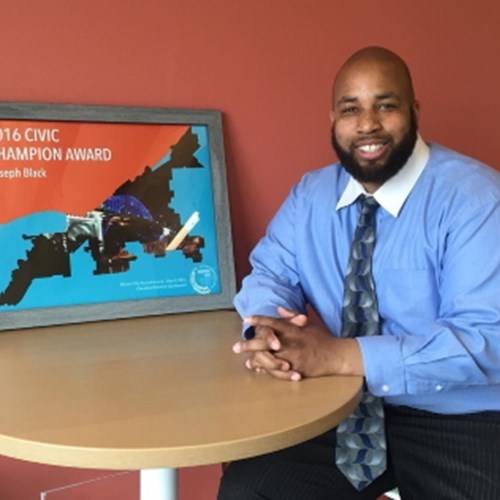 The Sisters of Charity Foundation of Cleveland has promoted Joseph Black to the role of program officer, health equity. In this new role, Black will support the foundation's efforts to achieve better health outcomes for Central Neighborhood families as related to the social determinants of health, specifically neighborhood safety, police-community relations and social capital.
"We are thrilled Joe is joining our grantmaking team. This is an important step in establishing a more focused emphasis on the social determinants of health that deeply affect the Central Neighborhood and so many other neighborhoods of Cleveland, namely structural racism and community safety," said Susanna H. Krey, president of the Sisters of Charity Foundation of Cleveland. "As leaders across the nation confront racism as a public health crisis, it is time for the foundation to invest in a program officer who can help connect resident voices to challenge the policies and practices that continue to devastate the health and well-being of too many individuals and communities and so impact quality of life."
Black will expand and deepen the foundation's work on health equity and safety, shaping the work and supporting the foundation's focus in the Central community and Cleveland to enhance family well-being. His role will include strategic grantmaking and partnership development within the philanthropic community, and trust-building among community members and leaders, partners and grantees.
Black's most recent position was with the Cleveland Central Promise Neighborhood, where he has served as community investment manager and in other roles since 2010. Promise is a collective impact initiative that works to transform the educational and developmental outcomes of children in Central Neighborhood.
One of the key programs throughout his tenure has been the Reverse Ride-Along project, which is coordinated by Black on behalf of the Promise Neighborhood, alongside Jan Thrope of Inner Visions Cleveland. The program is a re-imagining of the traditional police ride-along as it reverses roles and enables the community to highlight people, places and resources they would like to introduce to Cleveland's newest police officers. The program is primarily offered to new recruits from the Cleveland Police Department and Cuyahoga Metropolitan Housing Authority (CMHA) Police Department with the vision of expanding to educators, politicians and medical professionals. To date, nearly 450 officers have connected with more than 2,500 residents throughout the city.
"Joe's work with the Cleveland Central Promise Neighborhood and the Reverse Ride-Alongs, as well as his important perspective in administering the foundation's Good Samaritan grants program, put him at a unique intersection of multiple voices and perspectives," said Krey. "From his many roles and deep connection to residents and organizations across Cleveland, Joe provides invaluable insight as to how the foundation can further strengthen its commitment to health equity and public health, which is at the root of the Sisters of Charity of St. Augustine's call to serve."
Black holds a master's degree in public administration from the Bernard M. Baruch College School of Public Affairs in New York City, which was earned as part of the National Urban Fellows academic and leadership development fellowship program in 2017. In 2016, Black was honored with the Vibrant Civic Champion Award by Cleveland Neighborhood Progress for his work in Central Neighborhood. His bachelor's degree is in psychology and sociology from Shaw University in Raleigh, North Carolina.
Currently, he is a member of the Neighborhood Leadership Development Program Cohort 8, Neighborhood Leadership Cleveland Class of 32, and also serves on the CMHA Board of Commissioners as the vice-chair and the Hitchcock Center for Women Board of Directors, chairing the fund development and marketing committee.
Black's first day in this new role will be January 15, 2021.
About the Sisters of Charity Foundation of Cleveland
Since 1996, the Sisters of Charity Foundation of Cleveland has partnered with residents, nonprofits and community leaders to change the trajectory of poverty in Cuyahoga County. Its nearly $100 million endowment includes the first health care conversion foundation and first foundation formed by a congregation of Catholic sisters in the United States.
Through grantmaking, collaboration, advocacy and more, the Sisters of Charity Foundation of Cleveland works to improve the lives of those most in need with special attention to families, women and children living in poverty. The foundation works to end homelessness in Cuyahoga County and to reduce health disparities and improve educational opportunities in Cleveland's Central Neighborhood. As a Catholic organization, the foundation extends the values of Jesus Christ through the mission of its founders – the Sisters of Charity of St. Augustine – and also works to sustain the ministries of women religious.
The Sisters of Charity Foundation of Cleveland is a ministry of the Sisters of Charity Health System – a family of Catholic health care, grantmaking and outreach ministries healing individuals, families and communities in Ohio and South Carolina.
---