Sisters of Charity Foundation of Cleveland releases 2021 annual report: 25 Years of Partnership and Authenticity
---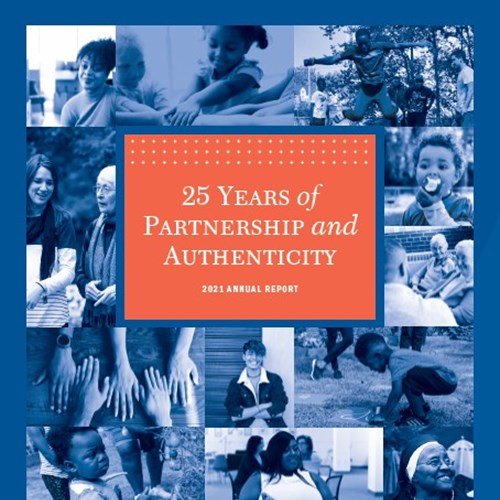 The Sisters of Charity Foundation of Cleveland has released its 2021 annual report, 25 Years of Partnership and Authenticity, which explores the ways the foundation lives its commitment to community: by bringing those with lived expertise into every aspect of its work, from grantmaking to strategy development to the way it evaluates success.
The report provides stories of lived experiences in three areas: how lived expertise influences strategy and direction, lived expertise in grantmaking processes and lived expertise in learning.
Below is the text of a letter that appears in the 2021 annual report as the foundation looks toward the equitable future it envisions.
Read the full annual report here
Letter from Woodrow Whitlow, Jr., SOCF Cleveland board chair, and Susanna Krey, SOCF Cleveland president
When the Sisters of Charity Foundation of Cleveland was established 25 years ago, our founding sisters gave us the charge to change the trajectory of poverty in Cleveland. We would accomplish this by addressing the causes of poverty at their roots, identifying the social determinants, moments and opportunities that can affect individual health and well-being.
A quarter century later, we are still seeing drastic disparities among our communities, and many of those disparities have been exacerbated by systemic racist policies and an ongoing pandemic. Thus, we remain far from achieving our vision of an equitable community where opportunities for growth and quality of life are shared by all.
Yet, we have hope. A constant refrain of ours is "Where others see impossible, we see God's people." When we spend time with one another, with those who have varied backgrounds and experiences and outlooks, it is hard not to hope. As an organization with Catholic social teaching at our center, we see dignity and divine value in every life—no one more important than another. We take intentional steps to hear from individuals, especially those who have lived and been affected by the issues we are helping to solve. Whether they have professed vows as a sister or faced housing instability, been incarcerated or witnessed traumatic violence, they are the experts. We need to listen.
The work of authentic listening is difficult. We are part of a system that wields a great deal of influence in our community, a system that has for centuries looked to those at the top as the most knowledgeable.
Now we are asking:
What changes have we seen? What if we look to those who have been sidelined, marginalized, and turned away and seek their input on issues that affect their lives?
In those margins and in those conversations, we find vibrancy, brilliance and a power that has been silenced for far too long. In listening together, we find healing.
Healing requires hard work. Hope is a discipline. However, the pain and perseverance in the pursuit of hope and healing pales in comparison to the devastation that results from not listening. We must seek new ways of working together if we want to realize new outcomes.
This report shares several stories of how we are working to center lived expertise in our program strategies, evaluation practices and grantmaking processes. We invite all our partners across greater Cleveland to consider what it looks like to partner in authenticity and share power and knowledge among all members of a community.
We firmly believe that it is only together that we can effectively open our hearts to heal and move forward. Please join us on our continued journey toward a future where everyone can reach the potential God created them for. Join us in turning hope into action and bringing important voices into every conversation.
With Hope and Perseverance,
Woodrow Whitlow Jr.
Chair, Sisters of Charity Foundation of Cleveland
Board of Directors
Susanna H. Krey
President, Sisters of Charity Foundation of Cleveland
---