Sisters of Charity Foundation of Cleveland promotes Adrienne Mundorf to vice president, programs and strategy
---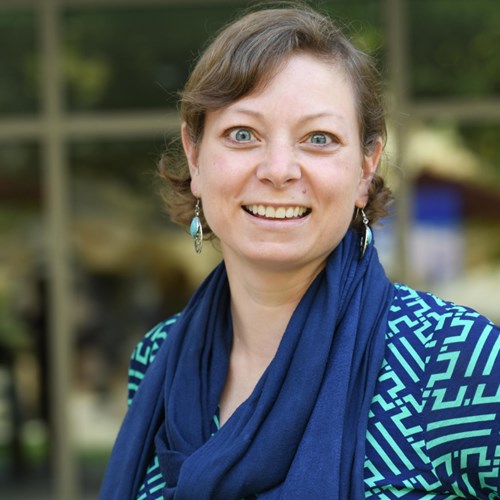 The Sisters of Charity Foundation of Cleveland (SOCF) has promoted Adrienne R. Mundorf, MPH, to the position of vice president, programs and strategy. In this role, she works closely with SOCF President Susanna H. Krey to define program strategies and direct program staff. She also serves as the lead strategist on all initiatives related to health, including working with grantee partners and serving as a thought partner with others in addressing health disparities throughout the community. Mundorf was previously senior program director.
"For five years, Adrienne has worked continuously to engage with the community and help break down barriers to health access and equity. We are thrilled to have her build on that work and advance innovation and support across all our program areas to help lead the foundation into the future in her new role," said Krey.
Following her leadership in the redesign of SOCF's strategic plan, which advances innovative systems change, policy and racial equity, Mundorf pivoted in early 2020 to pandemic response. She co-founded and continues to serve on the steering committee of the Greater Cleveland COVID-19 Rapid Response Fund in partnership with peers from the Cleveland Foundation, Mt. Sinai Health Care Foundation, Saint Luke's Foundation and The George Gund Foundation. The fund provided $8.6 million in emergency relief from March to July for phase one, and raised approximately $7.75 million since September for phase two. As part of this work, Mundorf co-led the rapid response grantmaking process development, due diligence and deployment; efforts in advocacy for federal and state resources to provide funding for emergency food and shelter; and developed strategies to address areas of need across the nonprofit community, including technical assistance with obtaining additional resources, sourcing personal protective equipment for nonprofits and residents, and working with a broad group of stakeholders on connectivity. She also co-developed infrastructure and set strategy for Phase II, and brought additional SOCF staff to participate across the work.
Also in the community, Mundorf's roles include coordinator of the Ohio Regional Convergence Partnership, a state-wide funder collaborative to support multi-field partnerships in achieving equitable and sustainable policy changes specifically around increased access to healthy foods and health care; co-chair of Philanthropy Ohio's Health Initiative Steering Committee and membership on the Philanthropy Ohio Public Policy committee; secretary of the Health Policy Institute of Ohio board of directors; and chair of the Church of the Saviour Foundation and member of the Church of the Saviour Metro Ministries Council.
In 2020, she was the Philanthropy Ohio 2020 Emerging Ohio Philanthropist Awardee. In 2019, she received the Women of Professional Excellence award from the YWCA of Greater Cleveland.
Prior to joining SOCF in 2016, Adrienne worked at Tulane University, where she served in a dual role as senior program manager of the Global Community Health & Behavioral Sciences Department and as policy and advocacy manager at the Tulane Prevention Research Center.
Mundorf holds a Master of Public Health from the School of Public Health and Tropical Medicine at Tulane University, and a Bachelor of Arts in Political Science from Kalamazoo College. She is a Returned Peace Corps Volunteer (Malawi 2002-2005) during which she developed a passion for promoting food justice and advancing a whole family approach.
About the Sisters of Charity Foundation of Cleveland
Since 1996, the Sisters of Charity Foundation of Cleveland has partnered with residents, nonprofits and community leaders to change the trajectory of poverty in Cuyahoga County. Its nearly $100 million endowment includes the first health care conversion foundation and first foundation formed by a congregation of Catholic sisters in the United States. The Sisters of Charity Foundation of Cleveland is a ministry of the Sisters of Charity Health System.
---