Sisters of Charity Foundation of Cleveland introduces second class of Generative Spirit's Ministry Leadership Program
---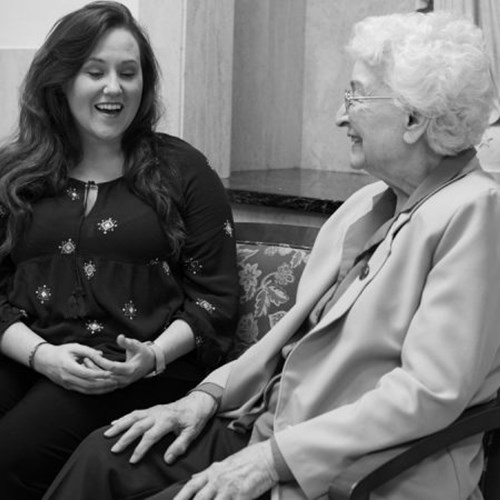 The pursuit of spirituality, purpose and a commitment to mission-based work are common among today's young professionals. Catholic sisters, who have dedicated their lives to service and mission, have decades of experience and knowledge to share.
The latest iteration of the Ministry Leadership Program at Sisters of Charity Foundation of Cleveland will connect these groups in an effort to inspire emerging leaders to carry forward sisters' unique approach to ministry and strengthen sisters' capacity to serve as mentors and advisers.
A program of the foundation's Generative Spirit initiative, the Ministry Leadership Program kicked off its new cohort in August, the first since the pilot program in 2019.
Participants represent a variety of specialties and organizations, and their sister companions bring experience in ministries ranging from housing, HIV/AIDS ministry and international missionary work to post-secondary education and organizational leadership.
Participants:
Susan Barnish
Programs Director
COAR Peace Mission
Lena Chapin
Director of Networking and Development
Ignatian Solidarity Network
Katie Cuevas
Religion Teacher (grades 6-8)
Incarnate Word Academy
Rachel Dollard
Clinical Supervisor
Catholic Charities of Cleveland
Erin Hathaway
Executive Director
Zelie's Home
Megan Scheck
Director of Programs & Quality Improvement
Humility of Mary Housing, Inc.
Zachary Thomas
Program Director
Writers in Residence
Sister Companions:
Sr. Jane Blabolil, SSJ-TOSF
Sisters of St. Joseph of the Third Order of St. Francis
Ministries: Spanish language interpreter, congregational leadership, missionary work in Lima, Peru, education
Sr. Carol Brandt, SND
Sisters of Notre Dame of Chardon, OH
Ministries: Education, non-profit management, community development, global public policy, fund and project development
Sr. Rosemarie Burke, SIW
Sisters of the Incarnate Word
Ministries: Teaching, vocation and formation, congregational leadership, campus ministry
Sr. Mary Pat Cook, HM
Sisters of the Humility of Mary
Ministries: Secondary education teaching and administration, congregational leadership
Sr. Virginia DeVinne, OSU
Ursuline Sisters of Cleveland
Ministries: High school teaching and administration, congregational leadership, college academic advising
Sr. Jean Orsuto, HM
Sisters of the Humility of Mary
Ministries: Healthcare, housing for homeless single parent families/individuals, outreach for the poor in the Girard area
Sr. Mary Jane Vovk, SND
Sisters of Notre Dame of Chardon, OH
Ministries: Teacher, pastoral associate, minister to the sick and dying
Sr. Susan Zion, OSU
Ursuline Sisters of Cleveland
Ministries: Leadership in HIV/AIDS ministry, social services, teaching in primary school
Virtual monthly workshop meetings for all participants will provide spiritual, leadership and professional development opportunities and will cover topics such as: Communication and Dialogue in Challenging Times, The Impact of Sisters in Northeast Ohio, and Systemic Racism in Ministry.
In addition, each young adult will meet monthly with their sister companion to provide an opportunity for an intergenerational formation experience around faith, spirituality and the call to serve. Together with their sister companions, young adults will develop a project or program to enhance mission integration at the participant's organization. Participants will be expected to present and implement their plans at their organizations during the 2021-2022 program year.
The Sisters of Charity Foundation of Cleveland is a ministry of the Sisters of Charity Health System.
---