Sisters of Charity Foundation of Cleveland chair named a "White House Champion of Change for Making"
---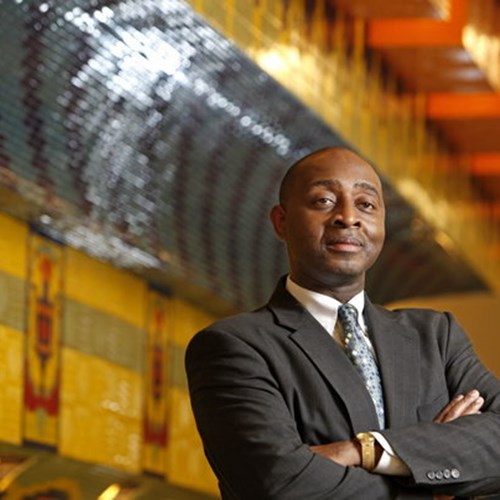 Felton Thomas Jr., board chair of the Sisters of Charity Foundation of Cleveland and director of the Cleveland Public Library (CPL), was chosen as one of the 10 White House Champions of Change for Making, for "doing extraordinary things to empower and inspire members of their communities."
"These individuals were selected by the White House for their personal passion and tireless efforts to make advances in technology and platforms, educational opportunities, or spaces that empower even more Americans to become tinkerers, inventors and entrepreneurs," the White House said in a written announcement.
The 10 Champions of Change were celebrated at the White House at a ceremony in June.
"I am humbled by this tremendous recognition from the White House, and am honored to accept it on behalf of our hard-working and committed CPL staff," said Thomas. "This recognition symbolizes the importance and relevance of public libraries being at the forefront of providing cutting-edge technology to our community to open the doors to creativity and entrepreneurship."
Thomas and CPL were recognized for the innovative makerspace, TechCentral, which opened in 2012. TechCentral provides open access for patrons to laser engraving, 3D printing, audio, video, photo production tools, as well as basic computers and laptops. Recently,  TechCentral has expanded to include MakerLab programs at 27 CPL branches featuring high and low-tech versions of photography, 3D printing, font creation, computer programming, art and design, laser engraving and cutting, and more.
The celebratory event at the White House marked the anniversary of the White House Maker Faire when President Obama launched the Nation of Makers initiative, which focuses on ensuring that Americans of all backgrounds have access to new technology such as 3D printers, laser cutters, and other technology that encourages Americans to create and make.
Read more about the honor in this article that appeared in The Plain Dealer.
The Sisters of Charity Foundation of Cleveland is a ministry of the Sisters of Charity Health System.
---