Sisters of Charity Foundation of Canton supports Stark Library's Summer Fun School program
---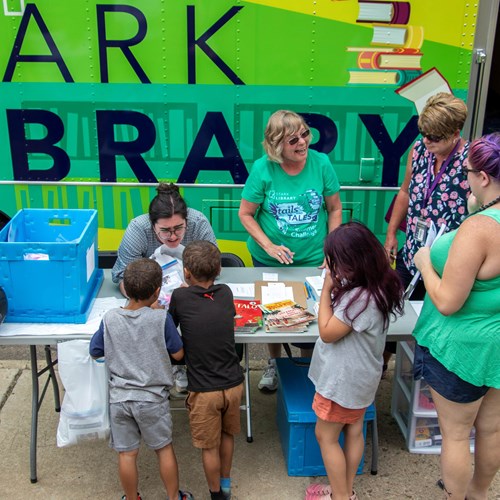 The Sisters of Charity Foundation of Canton is continuing its support of Stark Library's Summer Fun School program. The program was established in 2021 to mitigate pandemic-related disruptions to learning by reaching Canton children who weren't participating in organized activities (like summer camps). The program was designed to nurture creative thinking, strengthen family connections, address food insecurity and foster school success.
Stark Library developed a series of project-based learning kits containing books, activities, manipulatives, and resources focused on three areas: talk and play, body and brain, and science and math. Every week throughout the summer, the bookmobile delivers new kits to:
Mahoning Manor, Creeks Crossing, and Ellisdale Apartments in northeast Canton,
Schreiber Early Learning Center in northwest Canton,
Jackson Sherrick Homes and Skyline Terrace in southeast Canton, and
Linwood Acres in southwest Canton.
After distributing kits, Bookmobile staff will engage in kit activities with the children. The bookmobile's presence in those neighborhoods also allows children a way to regularly borrow books without visiting a library branch.
This program has garnered a great deal of attention, first by the Urban Libraries Council for its innovative method of reaching children and then by the Ohio Library Council and the Northwest Regional Library System each of which invited Stark Library to give a presentation about the program). The program will be featured this month at the American Library Association Conference in Chicago. The Akron-Summit County Public Library was inspired to replicate the program for the families it serves, with guidance from Stark Library staff.
Stark Library is the county's largest public library system, serving nearly two million visitors each year. It has 10 locations, five mobile libraries, and a 24/7 digital branch. It's an essential resource that is accessible to all throughout the Canton community.
Learn more about the program and about all that Stark Library has to offer in this video.
The Sisters of Charity Foundation of Canton is a ministry of the Sisters of Charity Health System.
---