Sisters of Charity Foundation of Canton supports child care providers during the pandemic
---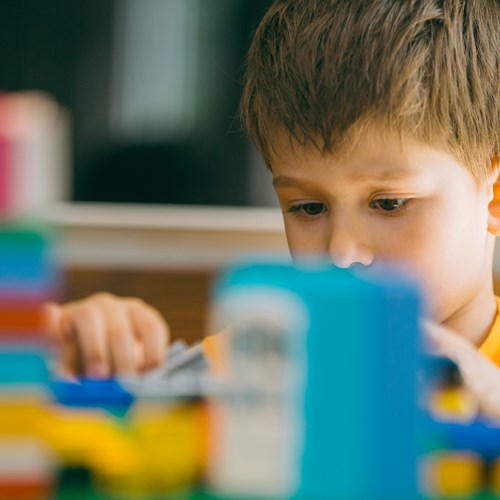 Child care has been in the spotlight throughout the COVID-19 pandemic. The staff of the Sisters of Charity Foundation of Canton knew help would be needed, considering its decades-long commitment to early childhood issues. To learn the most effective ways to help, the staff went directly to the experts: the child care providers themselves. The foundation recently published an article about what was learned and how it collaborated to support the needs of child care providers during the crisis.
The full text of the article is below or available here. The Sisters of Charity Foundation of Cleveland is a ministry of the Sisters of Charity Health System.
In mid-March, schools and businesses were ordered to close. Ohioans were told to stay at home, so everyone could remain safe.
The number of children in state-subsidized child care plummeted, from 117,000 children before the pandemic to only 17,000 by late March. Many families chose to keep their children home, even before most child care centers closed.
But that wasn't an option for everyone. First responders, health care providers, and others continued to do essential work. And those essential workers needed and deserved safe, high-quality child care. Despite the challenges and risks, around 25% of child care centers and family child care homes successfully applied to become pandemic child care providers.
Early on, Foundation staff began calling those centers to learn about their needs. We learned that while they wanted to be a part of the solution during this crisis, choosing to operate under a temporary pandemic license was not a decision that they could make lightly. It meant assuming significant health and financial risks and addressing worker safety, insurance implications, and legal liability. The statewide order limited the number of children to six per teacher, with no more than one group in every classroom – approximately one-third of normal licensing requirements. Even though the state paid the highest rates allowable, centers that remained open would lose money every week. This was verified through surveys and during individual discussions among Foundation staff, the Early Childhood Resource Center, and the child care providers.
Understanding the unique needs of pandemic child care centers allowed Foundation staff to educate and advocate for support from local foundations and donors. Through April, the collaborative funders* awarded $110,000 ($30,000 from Sisters of Charity) to four centers: YMCA of Central Stark County, Massillon Family YMCA, Epworth Nursery School, and Aultman Women's Board Child Care Center.
But Foundation staff knew that this funding would only keep these centers afloat temporarily. Child care centers operate with lean margins in the best of times. Many have little or no cash reserves to weather a crisis and simply will not make it. State and national funding decisions will largely determine which centers will have the resources to stay open. As part of Governor DeWine's Child Care Strike Team, Foundation staff helped to establish pandemic child care protocols, make recommendations on allocating the $115 million in federal CARES Act funding Ohio received to offset child care centers' losses, and provide guidance to Governor DeWine on reopening additional child care options along with the reopening of Ohio's economy.
National and state-level organizations, such as the Early Childhood Funders Collaborative and Groundwork Ohio, led regular calls focused on the pandemic's toll on the early childhood system. These calls are keeping Foundation staff updated on how other states, the philanthropic sector, and early childhood thought leaders are responding. Going forward, it will be crucial for Foundation staff to maintain a presence in this work. Foundation staff, like many who stepped forward to provide pandemic care, are committed to ensuring that the best providers not only survive, but thrive.
* Collaborative Funders: Deuble Foundation, Gessner Family Foundation, Health Foundation of Greater Massillon, Hoover Foundation, Massillon Rotary Foundation, North Canton Medical Foundation, Sisters of Charity Foundation of Canton, Stark Community Foundation, William and Minnette Goldsmith Foundation
---