Sisters of Charity Foundation of Canton supports Alliance Area Habitat for Humanity's new ReStore home improvement and donation center
---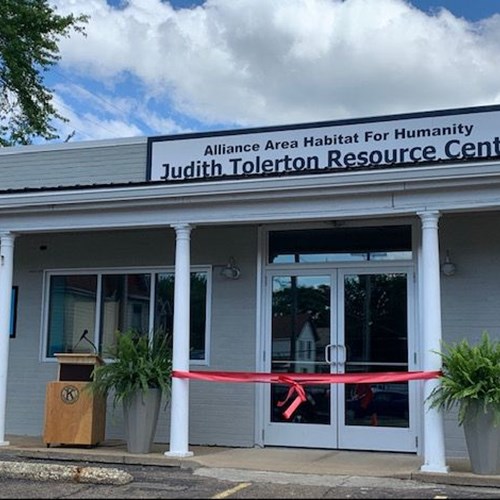 The Alliance Area Habitat for Humanity recently opened a new nonprofit ReStore home improvement store and donation center with the support of the Sisters of Charity Foundation of Canton. ReStore accepts donations and sells new and gently used furniture, appliances, home goods, building materials and more to the public at a fraction of the retail price. Sales at the store help the organization partner with local families to build, rehabilitate and repair safe and affordable homes in the Alliance community.
Alliance Habitat was fortunate enough to receive a donated building to house its ReStore, but the building needed significant work. The building is on Arch Avenue, near Aultman Alliance Community Hospital and the University of Mount Union. The neighborhood has been targeted for revitalization, so the city is in favor of building restoration and has gifted the two lots behind it for potential future expansion.
Extensive building renovations were supported by several local funders, including the Sisters of Charity Foundation of Canton. More renovations are planned to accommodate the organization's offices and a warehouse. The larger warehouse area will allow for enhanced security and offer much more space for storing large donations of building materials. ReStore proceeds should support operating costs while allowing Alliance Habitat to build at least one additional house every year, and also diverting reusable household items and building materials from area landfills.
Alliance Area Habitat for Humanity is working hard to make sure everyone in Alliance has a safe place to live. The organization does this by providing no-profit, no-interest mortgages to make homeownership a possibility for those who could not otherwise purchase a home.
Four simple things make Habitat for Humanity homes affordable:
Volunteer labor;
A no-profit selling price;
No-interest mortgages; and
Gifts from companies, individuals, local organizations, and charities.
The Sisters of Charity Foundation of Canton is a ministry of the Sisters of Charity Health System.
---