Sisters of Charity Foundation of Canton enables therapeutic equestrian center to digitize for sustainability
---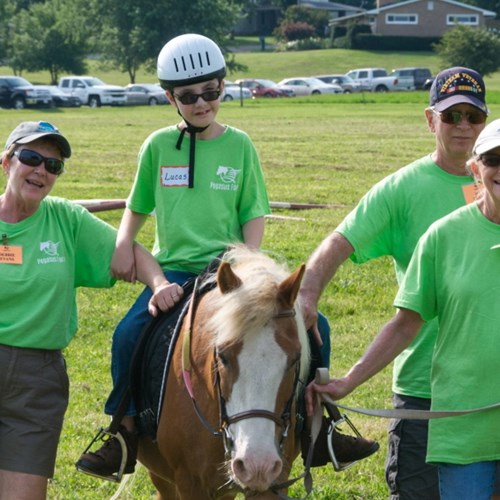 Pegasus Farm is a therapeutic equestrian center in Hartville, Ohio, founded by three Canton City School teachers to offer children with disabilities the opportunity for physical activity and recreation. Today, Pegasus provides more than 13,000 hours of lessons each year to more than 500 individuals from eight counties. The Sisters of Charity Foundation of Canton has supported the efforts of Pegasus Farms since 2012.
A lack of a digitized data collection system meant Pegasus was missing out on critical funding opportunities. The foundation provided guidance and funding to help Pegasus address this needs and create an evaluation plan that will improve program outcomes and increase funding.
Pegasus Farm has grown into one of the largest, most programmatically diverse therapeutic equestrian centers in the United States. Pegasus offers numerous services, including:
Therapeutic equestrian activities for individuals with physical and/or cognitive disabilities;
Equine-assisted learning for veterans, active military personnel, and first responders; and
Programs that strengthen the leadership skills and resilience of at-risk youth through equine-assisted learning.
Pegasus Farm has always been an evaluation-minded organization. Among other elements, Pegasus has assessed and tracked participants' aptitude, behavior, and progress. Although it's a data-rich operation, most of that data has been collected via handwritten notes. Those notes are very useful to the organization internally, but not as useful for sharing successes and meeting funder expectations.
While Pegasus employees knew they needed to digitize, they were unsure what data digitization solutions they needed.
Sisters of Charity Foundation of Canton Program Officer Richelle Wardell worked closely with Pegasus employees over many months to learn their needs, map out a game plan and evaluate which data digitization firm could best provide solutions.
The group chose Smile Minded Smartworks, which helps organizations develop data-driven decision-making processes. Smile Minded worked extensively to break down exactly what attributes needed to be evaluated for each Pegasus program, discern what data would be needed for each evaluation point, develop a database, and devise an evaluation plan to guide efforts going forward. These efforts position Pegasus as a leader among its peers in evaluating equine-assisted learning and activities.
Tammi Gainer directs Pegasus Farm's equestrian and military programs. "The development of software for the farm's data modernization system, funded through the Sisters of Charity Foundation, has streamlined program reporting and data collection for all of our various programs. Through the development of program assessments, we have been able to better track outcomes for each program and make adjustments as needed. Also, the ability to have at our fingertips data for our various funders and partners has been a tremendous blessing," she said.
Now Pegasus is poised to provide funders quantifiable outcomes and stories of measured progress that reflect all the hard work done by both staff and participants over more than 35 years.
The Sisters of Charity Foundation of Canton is a ministry of the Sisters of Charity Health System.
---