Sisters of Charity Foundation of Canton 2021 annual report celebrates 25 years of focused, intentional giving
---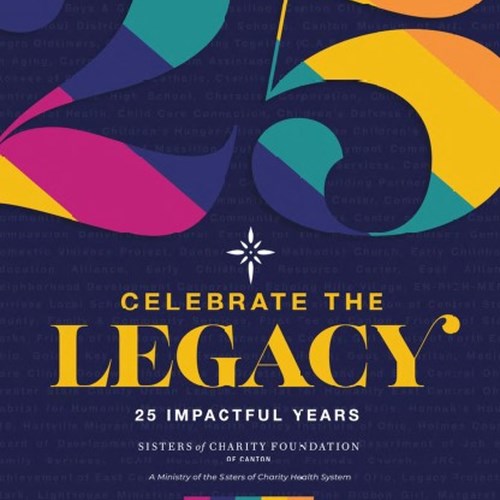 The Sisters of Charity Foundation of Canton has released its 2021 annual report, "Celebrate the Legacy - 25 Impactful Years." The annual report showcases multiple stories that demonstrate the impact the foundation is having and the role its community partners have played. The report highlights how the foundation has invested $72 million over 25 years and $118 million leveraged in several areas, including health, education and social services. The report also details the nearly $3.3 million invested in grant recipients in 2022.
Below is the letter from leadership that appears in the report.
Read the full annual report here.
A Letter From Our Leadership
The Sisters of Charity Foundation is celebrating an important milestone: 25 years of focused intentional giving.
The organization of 1996 and the organization of today are driven by the same mission and the same guiding principles. As we've worked toward systems change, we are proud of the multitude of partners we have had the privilege of working with over the years. Our relationships have shaped our goals, our strategies, and our processes.
As the African proverb states, "If you want to go fast, go alone. If you want to go far, go together."
As with any journey, it would be impossible to detail every moment, every success, or every challenge. In this report, we've highlighted just a handful of successes, all requiring the unique contributions of trusted partners who shared the commitment of the Sisters of Charity of St. Augustine: to focus on health, education, and social services directing attention to those existing and emerging needs which are most critical.
We are fortunate and thankful that the Sisters entrusted us with their mission. And we are grateful to our Board and staff members, past and present, who have persevered with us on this journey.
Although we have a lot to celebrate, we have so much more to do. We need our partners now more than ever. Please stay with us, focused on our shared care for those less fortunate and for the betterment of our community.
Here's to another 25 years of focused intentional giving!
Sincerely,
Jeffrey A. Halm, Board Chair
Joni T. Close, President
The Sisters of Charity Foundation of Canton is a ministry of the Sisters of Charity Health System.
---