Sister Helen Scasny, SC, puts her heart and soul into Light of Hearts Villa
---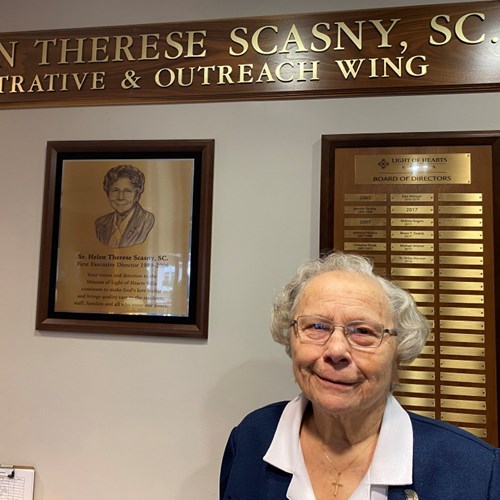 Sister Helen T. Scasny, SC, is one of Light of Hearts Villa's most dedicated volunteers. She spoke about her history with and passion for the ministry in the the fall/winter edition of Villa Voices, which is the bi-annual newsletter of Light of Hearts Villa.
Read the full text of the article below or access the full newsletter here.
Sister Helen T. Scasny, SC, is a face you see as soon as you walk into Light of Hearts Villa, whether she's there in person or not. That's because her smiling face is on a photo on the wall right by the front entrance. There's a good chance you can see Sr. Helen somewhere around the building as she is one of Light of Hearts Villa's most dedicated volunteers. Villa Voices spoke to Sr. Helen about her history with and passion for the Villa.
Q: What is your history with Light of Hearts Villa?
A: When I was serving as president of the Vincentian Sisters of Charity, we had the Lumen Cordium High School, but it was closing soon. We analyzed and prayed about what to do with the building and what needs needed to be met and out came the idea of forming an assisted living community. It was quite the process. We endured and made it happen. Then we had the question of who was running it? So I became the first executive director.
When we first opened, we only had one husband and wife move in and there were just three of us who managed the entire building. We cleaned, we cooked, we served. Then it continued to grow and I hired people as needed.
Q: Why does this community mean so much to you?
A: We put our heart and soul into retrofitting a high school building into an assisted living facility. We truly became family with each other and our residents. We ate together, we prayed together and discussed everything with our residents. It meant a lot to get their opinions and as I watched this place grow, that feeling of joy and family never left and I'm really proud of that.
Q: What was the story behind the beginning of the Sr. Helen T. Scasny, SC, Benevolent Fund?
A: I made a promise that we would never put people out because of finances. Everyone would tell me that it's not possible and I know this country runs on capitalism and the mindset of "what's in it for me." I tried really hard to keep that out of the Light of Hearts environment. This is a place where people truly feel happy and joyful. I never wanted these residents to feel overwhelmed or burdened by money, but to just enjoy their time here and grow closer to God.
Q: What is a life lesson that you have learned that you'd like to pass onto others?
A: I've learned the more you give, the more you get back. Not just in material things, but give a little love and compassion and gosh it comes back to you. Just love people as much as you can, be kind to them, talk with them, encourage them and tell them they're doing a good job. Sometimes that's all someone needs to hear to turn their day around. If you're doing these things, you won't have to look for it to come back to you, it just will. I can promise you that.
Light of Hearts Villa is a ministry of the Sisters of Charity Health System.
---