SCHS Vice President selected for Leadership Cleveland Class of 2021
---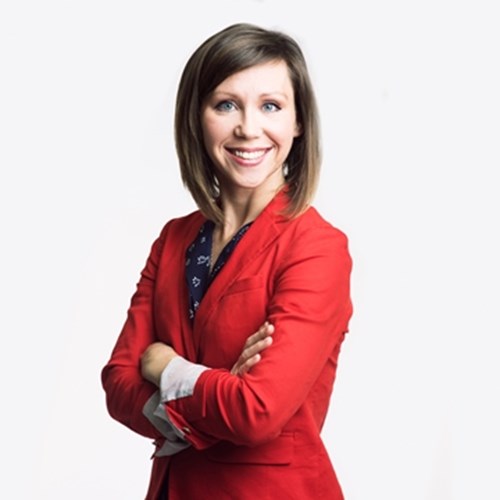 The Cleveland Leadership Center has named 68 people, drawn from public companies, nonprofits and public-sector institutions and chosen through a competitive application process, as members of the Leadership Cleveland class of 2021, including Rebecca L. Gallant, vice president of communications for the Sisters of Charity Health System.  
The Leadership Cleveland program runs 10 months and challenges senior-level leaders to act on pressing community issues. The program provides unique and meaningful opportunities for conversations and experiences that build knowledge, skills and relationships. Participants learn about the community and explore how collaborative leadership is critical to Northeast Ohio's current and future success.
The program typically begins with an opening retreat in September, followed by monthly day-long sessions, a midyear retreat, a class trip to learn from another region and a commencement ceremony the following June.
As reported in Crain's Cleveland Business, the members of the class of 2021 will join nearly 2,500 Leadership Cleveland alums from the past 42 years, including many from the ministries of the Sisters of Charity Health System, such as: Sister Judith Ann Karam, CSA; Susanna H. Krey; Shannon F. Jerse; Heather A. Stoll; and others.
The full Leadership Cleveland class of 2021 class roster includes:
Orion Bell, president and CEO, Benjamin Rose Institute on Aging
Tom Bernot, vice president, Falls
Mike Boddy, chief operating officer, The Anderson-DuBose Co.
Antony Bonavita, executive vice president, venue operations, Cavaliers Operating Co.
Jim Brown, chief financial officer, Dix & Eaton
Timothy M. Burke, president, Northeast Ohio, KeyBank
Kara Carter, senior partner, advancement and workforce, JumpStart Inc.
Marjorie Chambers, VP-union activist/tool and die maker, UAW Local 1005/General Motors
Bill Chorba, CFO, Cleveland Metroparks
Valda Clark Christian, chief compliance officer, University Hospitals
Tanzalea Daniels, director of finance and administrative operations, The Legal Aid Society of Cleveland
Thomas Dewey, executive vice president, people and strategy, Medical Mutual
Teresa Dews, president, Cleveland Clinic Euclid Hospital
Jill Dietrich, executive director and CEO, VA Northeast Ohio Healthcare System
Ayonna Donald, director of building and housing, city of Cleveland
Elizabeth Faler, general manager, The Ritz-Carlton Cleveland
Suzanne Ferrara, SVP, regional sales executive, treasury management, PNC
Rebecca Gallant, vice president, communications, Sisters of Charity Health System
Thomas Gill, president, Urban Community School
Melissa Graves, CEO, Domestic Violence & Child Advocacy Center
Elizabeth Grove, president, The Lubrizol Foundation
Arthur C. Hall III, firm administrative partner and partner-in-charge, Cleveland, Calfee, Halter & Griswold LLP
Paul Harris, partner and practice group leader, business litigation, Ulmer & Berne LLP
Graham Hearns, managing director, chief of staff, The Riverside Co.
David Henkel (organizational affiliation to be announced soon)
Roderick L. Ingram Sr., chief marketing officer, Northeast Ohio Medical University
Joy Johnson, interim executive director, Burten, Bell, Carr Development Inc.
Jessica Jung, managing director, Oswald Cos.
Megan Kacvinsky, CEO, Point To Point
Laura Kepley, artistic director, Cleveland Play House
Phil Kerber, division vice president, The Whiting-Turner Contracting Co.
Melissa Kline, senior vice president-patient care services and chief nursing officer, The MetroHealth System
Christopher Knestrick, executive director, Northeast Ohio Coalition for the Homeless
Paul Koomar, mayor, city of Bay Village
Thomas Kuty, principal/Cleveland consulting practice leader, Deloitte Consulting LLP
Brian Lane, president and CEO, The Center for Health Affairs and CHAMPS Healthcare
Rebecca Levine, partner, Porter Wright Morris & Arthur LLP
Shana Marbury, general counsel/SVP, talent, Greater Cleveland Partnership
Michal Marcus, executive director, HFLA of Northeast Ohio
Robert Maschke, principal/founder, Robert Maschke Architects Inc.
Leighton McCoy, vice president, Dominion Energy
Michelle Newland, president, retail and international, Oatey Co.
Kirsten Park, senior vice president, treasury, Eaton
Aaron Pechota, senior vice president, The NRP Group
Timothy Phillips, president and CEO, First Federal Lakewood
Anne Richards, president and CEO, Goodwill of Greater Cleveland and East Central Ohio
Darnella Robertson, regional external affairs, FirstEnergy
Terrence S. Robinson, vice president, workforce systems design, Success Pathways Alliance
Fredy Robles, chief program officer, Catholic Charities Corp.
Diana Rosa, chief quality officer, Koinonia
Carrie Rosenfelt, senior vice president, director of community outreach, Huntington Bank
Jon Ruple, managing shareholder, Maloney + Novotny LLC
Autumn R. Russell, executive director, Early College Early Career, MAGNET: Manufacturing Advocacy & Growth Network
Meenakshi Sharma, chief strategy officer, Cleveland Museum of Natural History
Dawn Southard, vice president of investor relations, Team NEO
James Stief, chair of the business department and attorney, McDonald Hopkins LLC
Mark Swaim-Fox, executive director, Cleveland region, Facing History and Ourselves
Caroline Taich, founder and principal consultant, Kirtland Consulting LLC
Sheila Trauernicht, chief communications officer, Westfield Insurance
Ted Tywang, vice president, general counsel, Haslam Sports Group
Carina Van Vliet, CEO, Cleveland Council on World Affairs
Megan Van Voorhis, president and CEO, Arts Cleveland
Jacob VanSickle, executive director, Bike Cleveland
Jeffrey Wade, chief of staff/special counsel to the CEO, Cuyahoga Metropolitan Housing Authority
Nadine Wallman, group vice president, Federal Reserve Bank of Cleveland
Timothy Warsinskey, senior editor/special projects, Advance Local
Lisa Williams, president, Eastern Campus, Cuyahoga Community College
Deandra Williams-Lewis, senior director, corporate services, ReliabilityFirst
The Cleveland Leadership Center's mission is to build a continuum of civic leaders committed to our community's excellence by serving as a catalyst for civic engagement. CLC provides leadership and community engagement opportunities across a wide spectrum of life and career stages to inspire, connect, and challenge individuals to make a positive community impact.
---