Regina Health Center resident helps the homeless during COVID-19 pandemic
---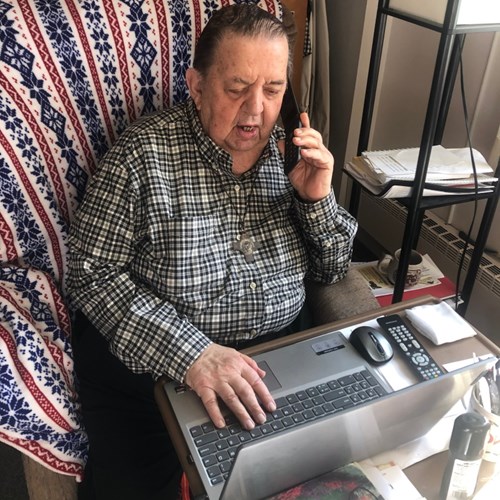 The St. Paschal Baylon Helping Hands Ministry in Highland Heights has never missed a weekly delivery of meals and supplies to the homeless in Cleveland since it was founded by Regina Health Center resident Deacon Joseph Bourgeois, SSS, in 2008—and that even includes Christmas day. While the COVID-19 pandemic has shut much of the state down, it hasn't shut down the urgent needs of the homeless. When volunteers from the Helping Hands Ministry went out last Wednesday (March 18), they learned from those they were serving that some of the other meal delivery groups had not been able to continue their efforts.
Deacon Joe, who is CEO of the Helping Hands Ministry, immediately got to work. With COVID-19 concerns, he has essentially been restricted to his room at Regina Health Center for his safety and health. But, that hasn't stopped him from helping the homeless and serving as an amazing example of everyone doing their part and serving others during this uncertain time.
As soon as Deacon Joe learned some of the others serving the homeless weren't able to make it out, he began advising his volunteers from afar, asking for additional financial donations and working with the Northeast Ohio Coalition for the Homeless (NEOCH) to increase their delivery days to twice a week. Deacon Joe has secured funding from such generous nonprofits as St. Paschal Baylon Church, Highland Heights Lions Club, Regina Health Center and local merchants to be able to begin to fulfill this additional need.
Regina Health Center serves some of the most vulnerable citizens in this pandemic—religious, clergy and senior residents from all over the region. Deacon Joe is part of this vulnerable group, but has remained an example of dedication, inspiration and outreach even from the confines of his room.
Helping Hands Ministry was founded at St. Paschal Baylon parish in Highland Heights; with Deacon Joe and the current ministry chair, Bob Ukovic, and many other dedicated volunteers who continue serving the homeless population of Cleveland.
Regina Health Center is a ministry of the Sisters of Charity Health System.
---