Promise Neighborhood #PromiseReads initiative brings new Little Free Libraries to Central neighborhood
---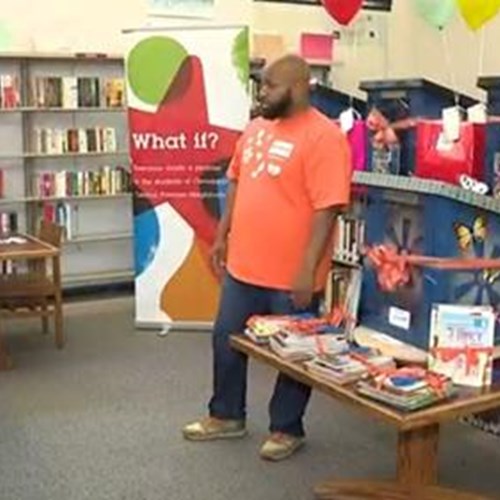 As part of the ongoing #PromiseReads initiative, the Cleveland Central Promise Neighborhood recently presented six new Little Free Libraries to the Central neighborhood, thanks to a generous donation from Anthem Blue Cross Blue Shield. In an October event at the Sterling Branch of the Cleveland Public Library, Promise Neighborhood Engagement Manager Joe Black spoke to the stewards of the new libraries about what it means to care for and support a Little Free Library.
Stewards all received book donations on behalf of the Kids Book Bank and Cleveland Public Library, as well as a supply from Anthem. Promise Ambassador Gwen Garth, a staple of Central's art community, plans to fill the library she stewards with crayons, coloring books and additional art supplies for the neighborhood. Felton Thomas, executive director of Cleveland Public Library, and Margaret Bernstein, director of advocacy at WKYC-TV, joined the event to talk about the value of Little Free Libraries in the communities, right alongside the invaluable resource of the public libraries.
The event was broadcast on WKYC. View the clip here.
The Promise Neighborhood has worked with Central neighborhood residents and partners to establish some of the 11 Little Free Libraries around the neighborhood. These "take a book, leave a book" structures invite residents of all ages to browse a selection of stocked titles and take them home to read.
New Little Free Libraries will be installed or updated in the following locations:
Alfred A. Benesch School
Boys & Girls Club at King Kennedy
Gwen Garth's Community Garden
John's Church
William Patrick Day Early Learning Center
In addition to the WKYC clip posted above, the #PromiseReads initiative has received extensive coverage on WKYC, including: Richaun Bunton and Greg LeManna of Anthem BCBS talking about the Promise Neighborhood; Tatiana Wells and Joan Spoerl of Imagination Library discussing literacy; and Christine Mitton from the Sisters of Charity Foundation of Cleveland and Keesha Tolliver-Funches of SPARK/Family Connections.
The Sisters of Charity Foundation of Cleveland (SOCF), which is a ministry of the Sisters of Charity Health System, is the lead convener of the Cleveland Central Promise Neighborhood.
The Cleveland Central Promise Neighborhood is a collective impact initiative that works to transform the educational and developmental outcomes of children in Central Neighborhood. Initiated in 2009, the Promise Neighborhood brings together many partners, including philanthropy, residents, community service providers and schools. The community-based Promise Neighborhood Advisory Board provides strategic direction with substantive input and guidance for the entire initiative.
---