Promise Neighborhood celebrates 2021 Champions of Central
---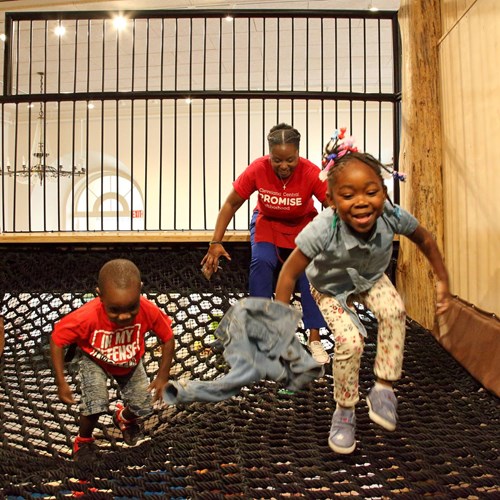 The Cleveland Central Promise Neighborhood annually honors Central Neighborhood residents and staff who help partnering organizations fulfill their missions and make significant contributions to the vibrancy of the neighborhood. On November 18, more than 50 individuals gathered in a virtual celebration of these Champions of Central. The Sisters of Charity Foundation of Cleveland is the lead partner of the Cleveland Central Promise Neighborhood.
Following is a recap of the virtual celebration, which is also available here on the Promise website.
"Father, I thank you for this time, this space. The reason we are here today is to honor those who have done work that is worthy of being admired, recognized and celebrated," said Coretta Daniel, Promise's early learning network coordinator at Starting Point, as she opened the Champions of Central virtual award ceremony with a prayer.

The Cleveland Central Promise Neighborhood annually honors Central Neighborhood residents and staff who help partnering organizations fulfill their missions and make significant contributions to the vibrancy of the neighborhood. On November 18, more than 50 individuals gathered in a virtual celebration of these Champions of Central.

Richaun Bunton, managing director, Cleveland Central Promise Neighborhood, and Joseph Black, health equity officer, Sisters of Charity Foundation of Cleveland, served as the emcees of the program.

After the prayer, Richaun introduced Dawn Glasco, who is the manager of engagement and social innovation, Cleveland Central Promise Neighborhood.

"The Champions of Central continuously go above and beyond the call of duty to help ensure Central families have access and support to available resources," said Dawn. "In a nutshell, they are people who we look up to."

Following reflection on what for many was a difficult year, Carol Malone, Promise ambassador and former Champion of Central, shared her story. Her family has roots in the neighborhood dating back to the 1940s. In 2010, she became a member of the first cohort of Promise Ambassadors and became active in the neighborhood, conducting tours, planting a community garden, tutored students, facilitated community conversations, sponsored the installation of 11 Little Free Libraries.

"When life throws you a curveball, do something to help others because you are really doing something to help yourself," she said.

She closed with a poem she wrote titled "Buffet."

What will I eat from my buffet today?
Before me lies an endless array of life's delicacies.
Sample the sweetness of love and the bitter taste of pain.
Enjoy the juiciness of pure joy.
The hunger of your soul and spirit satisfied. Fortified.
Choose wisely. Eat slowly
Take your time. Savor.
Digest and appreciate life's menu.

Adrienne Mundorf, vice president, programs and strategy at the Sisters of Charity Foundation of Cleveland, highlighted the connection between the neighborhood and the foundation, which is the lead partner of the Cleveland Central Promise Neighborhood.

"We're so proud and privileged to be a part of the Central Promise family and we hope that together we can continue to elevate these wonderful memories and future visions for this vibrant, historic and resilient community," she said. She referenced a Bible verse—1 Peter 1:6—that she said has been very important to her family during the pandemic: "So be truly glad. There is wonderful joy ahead, even though you have to endure many trials for a little while."
Champions of Central
The 2021 Champions of Central honored during the virtual meeting were:
Yolanda Armstrong, Executive Director, Friendly Inn Settlement
Before revealing the first recipient, Joe said, "This individual has a strong passion for the community. Her motto is, 'When they go low, we go high.' Her vision is for residents to feel safe and valued. I am honored to bring forth a leader who works day and night in our community. Please join me in recognizing Friendly Inn Settlement Executive Director Yolanda Armstrong."

In accepting the award, Yolanda said, "I have an awesome team that helps us move forward. The work we do is all about the people. As long as we keep the people in our vision, everything else that we want or desire will fall into place. Thank you for recognizing me. I carry this with my team."
Andrea Johnson, Community Ambassador, E. 39th Street Garden
Dawn Glasco provided some personal thoughts before Andrea spoke. "Your drive. Your passion. Your compassion. Your energy. It is contagious. But more than that, it is inspiring. We are so glad to have you a part of our family. Thank you for being a champion," said Dawn.

In accepting the award, Andrea said, "I'm very proud and very, very pleased. You have no idea what this means to me. Everything that has happened with Richaun and all of it is all God. I have to give it to him and say 'Thank you.' I would like to share this [award] with the students at East Tech High because ultimately the fact that they do better means that I am doing something right so they are my testimony. So thank you."
Antoinette "Toni" Smith, Community Volunteer, East Tech High School
Joe introduced Toni as "a patient, family-oriented leader who believes in treating people the way you would like to be treated. She's a community connector who wants to clean vacant lots to make the neighborhood safe and thrive."

Toni said, "I am just honored and happy to accept this award. I am proud to be a Champion of Central."
Ashley Williams-Gulley, Family Support Specialist, Marion-Sterling
"You are such a gem to the community," Richaun told Ashley Williams-Gulley. "You make everything happen. Your commitment to the families throughout the community, even during difficult times, we're grateful for you. You lead with a very genuine heart. Thank you for being down in the trenches when things get rough and being able to help people find help and to help us find hope as partners. Thank you so much."

In accepting the award, Ashley said, "This was quite an unexpected honor. I am really in good company. I know I must be doing something right to be recognized by such wonderful people in a community that is so full of love and support. Thank you all so much for this."
Cassandra Gordon, Community Advocate, Volunteer, Founder of BeUSisters Foundation
Before introducing the next recipient, Joe said, "I've heard so much about her work. I've had people come to me and say, 'Joe, you need to figure out how to support this young lady. She's doing amazing things in the neighborhood.' She is about the work. Her motto, which is a reflection of her work, is 'Always love and be you no matter the situation, obstacle, storm or test, you could overcome anything with the grace of God.' She spends so much time in our neighborhood leading different initiatives. She has a vision for uplifting and bringing support to the community. What you do is greatly appreciated."

Wyndi Moore, program associate at The FARE Project, provided a few personal thoughts. "Cassandra is a part of the fabric of the Central community and its neighbors. She is a third-generation resident who has created the change in her that she wants for her community. She deeply understands that there is a new narrative that needs to be told about her community and she is doing the work to make the change that she started within," she said.

In receiving the award, Cassandra said, "I'm overwhelmed with joy. This means so much to me. I really thank my family. I just want to continue doing the work."
Eddy and Maddy (in memorial) Gurewitz, Community Members
Special guest Keesha Tolliver-Funches, SPARK/Family Connections partner, spoke about the Gurewitz family. She said, "I met Mr. Gurewitz and his wife Maddy about nine years ago. Upon moving onto their street, he and his wife instantly engaged me and my family the same as they had been doing for all of the other neighbors and children on the street. They did fundraisers and gave out school supplies to families throughout the Central community. They saw a need for children to have a safe space to play and they cleaned out the lot across the street. Ultimately, KABOOM! came and built a playground on the lot and that was thanks to Eddy and Maddy Gurewitz. He and his wife were just boots on the ground. Thank you Mr. G and thank you for sharing Ms. Maddy with us. They always did all they could for the community."
Kate Woods, Community Mental Health Worker, Ohio Guidestone
Keesha also provided remarks about Kate Woods. She said, "I have awesome team members. Kate is a Godsend. She has a calm, steady nature. She can come into your storm with her peace and kind of level things out. She's a coach. She helps walk you to your answers. Kate is so resilient with the families and tenacious in her efforts to help people be what they want to be and attain their personal goals. Every family who has undergone the process with her, they say the same. 'Ms. Kate is bomb' to quote one of our families."

In accepting the award, Kate said, "I was so honored and surprised to get the award. I couldn't do it without my Family Partners team. Thank you again. I'm so honored."
Dr. Shemariah Arki, Educator, Activist, Organizer
Dr. Arki says her vision for Central is to reclaim, through storytelling and lived experience, its rightful history in the legacy of the Great Migration and the Black Liberation Movement.

"This individual comes from a family of activists," Joe said. "Deeply rooted and embedded in her genes is the need to invest and give back."

Richaun, who works closely with Dr. Arki on community engagement, said, "Thank you for being you. You turn difficult situations into teachable moments—spirits of joy. You come with your authentic self and you help other people find their authentic voices. Thank you for being a generational change agent in the Central community."

In receiving the award, Dr. Arki said, "When you are honored by your people, it means more than anything. This is really an honor. The work I've done with young people and black girls has always included the Central Promise Neighborhood. It is my honor to be a part of this team to be able to amplify the voices of the folks in the community to ensure we get the things we need and deserve."
Sonja (Sunny) McCord, Youth Librarian, Sterling Library
The next Champion of Central, Sunny McCord, said one word that describes her is "committed." Her vision for Central is that it will be a thriving environment, with a collective consciousness where members see themselves in a positive light.

"There are so many people who sing your praises," Richaun said to Sunny. "Thank you for your service. Everyone speaks so highly of the work you do with students and families in a space that is safe and so important."

As she accepted the award, Sunny said, "I am proud to be a part of the Central community. Growing up here, I do remember the sense of community we shared. I am thankful to give back to the community in which I grew up in. Thank you so much for this award."
William "Bill" Myers, Director, Central Recreation Center
Cathy Kopinsky, mission outreach, St. Vincent Charity Medical Center, and a 2020 Champion of Central, nominated Bill Myers. In the nomination, she wrote, "Bill has been a steady, dependable presence to so many of the youth in the neighborhood. For some, he is the male mentor that may be absent from their lives. You will often find a young person in his office sharing a report card triumph, a highlight from their school day or a personal achievement. You will also find them coming to him with a troubling situation, looking for advice or support. Bill always is there to listen with concern and help where he can. But always he tries to assist the youth in acquiring the life skills that will help them navigate through difficult situations, learning the tough lessons on behavior expectations, accountability and consequences."

In accepting the award, Bill said, "Thank you for the recognition. Coming down here over 20 years ago, I noticed the love. If you give it, it will be reciprocated. That's what the youth in this community want. Be it through sports, art, aquatics. They want you to love them, but also recognize who they are. I'm blessed to be able to know each kid who comes into the building. Recognizing them helps push them to be better. I truly enjoy helping youth. Thank you for the honor."
Wrapping up the virtual event, Joe thanked everyone from the Promise team. "I greatly appreciate all that you do in our neighborhood. It is true backbone community collective work that you are leading and inspiring change through. Finally, I want to give an ovation to each individual who was recognized today."

About the Promise Neighborhood
The Cleveland Central Promise Neighborhood is a collective network of residents, organizations and educators focused on improving health and education outcomes for families and children in Central. The Sisters of Charity Foundation of Cleveland, which is a ministry of the Sisters of Charity Health System, is the lead partner of the Cleveland Central Promise Neighborhood.
---