New video shares the story of the Sisters of Charity of St. Augustine
---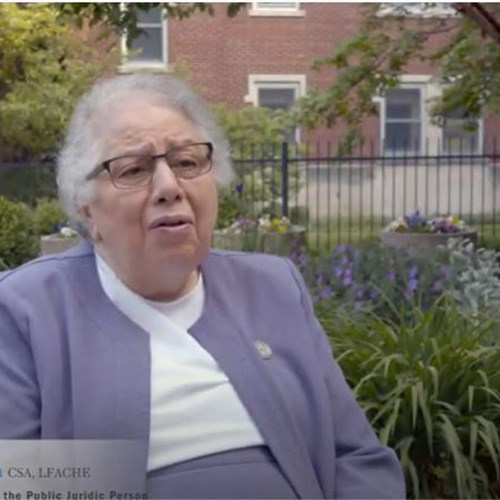 The Sisters of Charity of St. Augustine have served the Diocese of Cleveland in health care, education and social services since 1851. That's when two sisters and two postulants arrived from France to serve as the city's first public health nurses at the request of The Most Reverend Amadeus Rappe, first Bishop of Cleveland.
This early history and ongoing mission of the Sisters of Charity of St. Augustine are highlighted in a recently released video, Building a Legacy.
The video features Sister Judith Ann Karam, CSA, congregational leader, Sisters of Charity of St. Augustine, discussing how she was drawn to religious life and its mission to serve those in need as a high school student working at St. Vincent Charity Medical Center.
In the video, she said, "Our call for ministry is really about serving the person in need. That's most important. Whether it's someone who is suffering spiritually, someone who has needs physically, emotional needs or social needs. It's responding to the needs of the people God brings into our life. That's truly been the history of the Sisters of Charity of St. Augustine."
Discussing the impact of the three foundations of the Sisters of Charity Health system, she said, "Our foundations are all about responding to the needs of the people that we serve and the communities we serve. Wasn't it wonderful that we're able to be about systemic change? We can't do it all, but we're doing what God has called us to do. And we're doing it in collaboration with others."
The video also highlights the archives of the Sisters of Charity of St. Augustine, which is housed at the sister's motherhouse, Mount Augustine in Richfield, Ohio. In the video, Sr. Mary Denis Maher, CSA, a certified archivist, showcases the historical items in the archives as she discusses the history of the sisters arriving in the United States and their early work in Cleveland—including the artifacts that the sisters brought with them in 1851 (candlesticks and challises for a chapel, and bolts of cloth to be made into sheets and bandages).
The archives contain photographs, printed documentation, journals, diagrams and newspaper clippings related to institutions where sisters worked going back to the 1800s.
The video concludes with Sr. Judith Ann discussing the importance the sisters have placed on taking risks since the beginning and the importance of collaboration with those working and serving at each individual ministry to help continue the legacy of the sisters. "Risk taking and courage are core values for us. There always was taking risks. I'm so grateful that you have responded yes to being a part of this precious community, which is a community of service to God's people. We've never done it alone. We need you to embrace this wonderful mission and ministry, and bring your creative ideas."
Learn more through the Building a Legacy video.
---