Multiple health system ministries participating in annual #weGiveCatholic online crowdfunding event November 30
---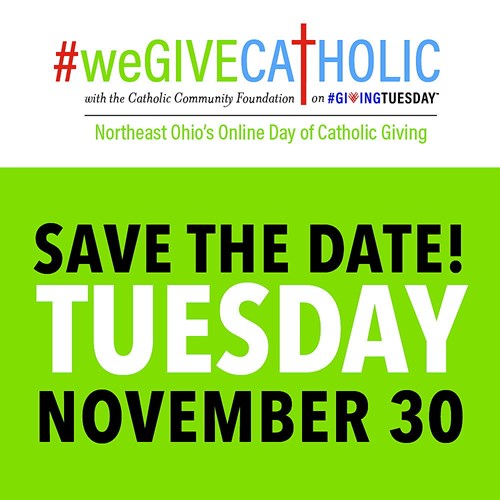 Several ministries of the Sisters of Charity Health System are participating in the annual online day of Catholic giving in Northeast Ohio. The event, #weGiveCatholic, happens Tuesday, November 30, which is Giving Tuesday, a national day of giving for nonprofits.
You can help by making a gift and/or sharing the news. Donating is a seamless experience you can do from your computer or mobile device any time from midnight until 11:59 p.m. on November 30. Secure, tax-deductible donations will be accepted on the website weGiveCatholic.org. Links to the pages for each health system ministry are below.
By designating St. Vincent Charity Medical Center, Joseph's Home and Mary's Home, Regina Health Center and Light of Hearts Villa, any gifts you contribute will benefit these ministries directly and place them in the running to receive cash prizes and secure matching gifts, increasing the impact of your donation. There will be nearly $60,000 in prize money given away on that day through friendly competitions with other Diocesan nonprofit organizations. In addition, each gift made during #weGiveCatholic to Joseph's Home will be doubled up to $10,000 and each gift made to Light of Hearts Villa will be doubled up to $5,000 thanks to generous donors.
All participating nonprofits and donors will be able to see which organizations are leading in each prize category by watching the "leaderboard" online. Most prizes will be determined by the number of people who give to the organization. The more people who donate, the better chance each health system ministry has at winning additional cash. There is also one special large prize given for the largest donation of the day
#weGiveCatholic is 24 hours of fun and fundraising hosted by the Catholic Community Foundation. It is a day dedicated to giving thanks and giving back.
---