Midlands Fatherhood Coalition enters historic partnership with Morris College
---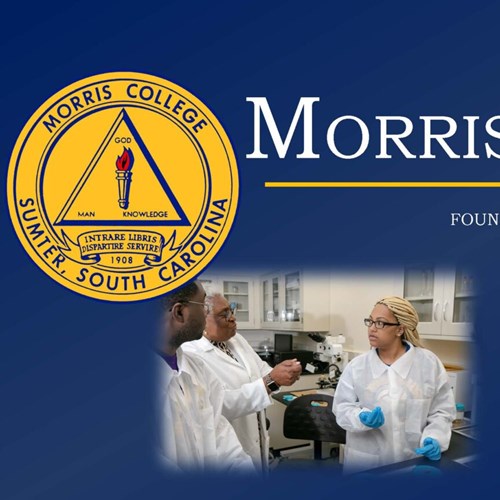 Midlands Fatherhood Coalition, a program of the South Carolina Center for Fathers and Families, has partnered with Morris College to provide more than 1,300 men and women in South Carolina with professional development opportunities.
This groundbreaking partnership will provide participants of Midlands Fatherhood Coalition (MFC) the opportunities to earn industry certifications in over 1,000 virtual courses such as cybersecurity, logistics and supply chain management, esports gaming and more, provided by Aperion Global Institutes and Blaze Fire Games.
Morris College, a historically black college in Sumter, South Carolina, is the first college to partner with Midlands Fatherhood Coalition to provide educational resources for the organization's members.
The institute's e-learning programs are accessed through Morris College's virtual campus designed to prepare students and lifelong learners for today's competitive global entertainment and education market, along with numerous other disciplines, including cybersecurity.
Morris College's virtual campus will be found be accessed here.
Participants can complete the courses in as little as three weeks, obtaining four cybersecurity industry certifications without getting in debt to cover the costs of the courses. These courses have been specifically designed to incorporate esports and cybersecurity courses surrounding game design and development, network defense, ethical hacking, and digital forensics.
"We are always honored whenever we have an opportunity to give back to the community, to expand our footprint in the community as it relates to offering workforce development credentials or an academic degree for those men and women of the community – especially with an organization like Midlands Fatherhood Coalition. Anytime people need these credentials or degrees, we are always honored to provide that," said Dr. Lewis Graham, dean of academic affairs at Morris College.
MFC's mission is to engage fathers in the positive support of their children and to enhance the support for fatherhood throughout the Midlands. The organization provides community-based programs and support groups for its participants, free of charge.
During MFC's previous fiscal year, over 1,300 participants were served in 38 of South Carolina's 46 counties.
"At Midlands Fatherhood Coalition, we believe dads make a difference in the lives of their children, families, and communities. We have witnessed how investing in fathers strengthens families - leading to better outcomes for their children. This audacious partnership allows our fathers to obtain gainful skills professionally, elevating them to new heights, leaving a financial legacy to their children. We are honored to be highlighted in this partnership with Morris College and Aperion Global Institute and Blaze Fire Games," said Angela McDuffie, CEO of Midlands Fatherhood Coalition.
The South Carolina Center for Fathers and Families is a ministry of the Sisters of Charity Health System.
---