Mercy Service League food and wine gift box fundraiser supports Mercy Medical Center during pandemic
---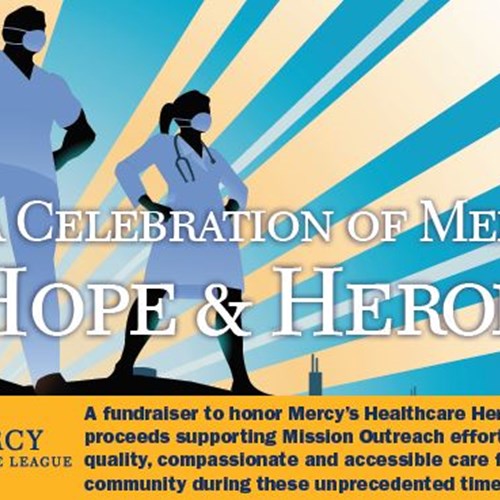 The coronavirus pandemic has impacted the world and touched everyone's lives, while also impacting hospitals throughout the country, with financial consequences related to COVID-19. To support Mercy Medical Center's mission outreach efforts to care for the community during these unprecedented times, Mercy Service League is selling Hope & Heroes celebration gift boxes, featuring specialty food and wine and a Hope & Heroes keepsake.
The boxes are priced at $100 each and there are three options: appetizer box with rated white wine, entrée box with rated red wine or dessert box with rated sparkling wine. Hope & Heroes 50/50 raffle tickets are also being sold for $25 each.
Pre-orders must be received by November 6 and can be made by visiting cantonmercy.ejoinme.org/HopeandHeroes or by contacting Elaine Campbell at 330-430-6986 or elainem.campbell@cantonmercy.org. All celebration boxes are to be picked up between 5 and 7 p.m. on Thursday, Nov. 12 at Mercy Medical Center in the circle behind the Timken Home. Pick-up will follow COVID-19 safety guidelines, and specific instructions will be provided when the order is placed.

Hope & Heroes is co-chaired by Mercy Service League members Lisa Werstler and Janice Sweitzer and is sponsored by Altercare Integrated Health Services.

About Mercy Service League
The mission of the Mercy Service League is to support the ideals and philosophies of Mercy Medical Center and the ministry of the Sisters of Charity of St. Augustine through friendship, fellowship and fundraising. Service League members provide service, outreach and education with the medical center and the community.

About Mercy Medical Center
Mercy Medical Center, a ministry of the Sisters of Charity Health System, operates a 476-bed hospital serving Stark, Carroll, Wayne, Holmes and Tuscarawas Counties and parts of Southeastern Ohio. It has 620 members on its Medical Staff and employs 2,500 people. Mercy operates outpatient health centers in Alliance, Carroll County, Jackson Township, Lake Township, Louisville, Massillon, North Canton, Plain Township and Tuscarawas County. A Catholic hospital, Mercy Medical Center upholds the mission and philosophy of the Sisters of Charity of St. Augustine and continues to be responsive to the needs of the community. For more information, see cantonmercy.org.
---