Mercy Medical Center 93-year-old volunteer profiled for National Volunteer Week
---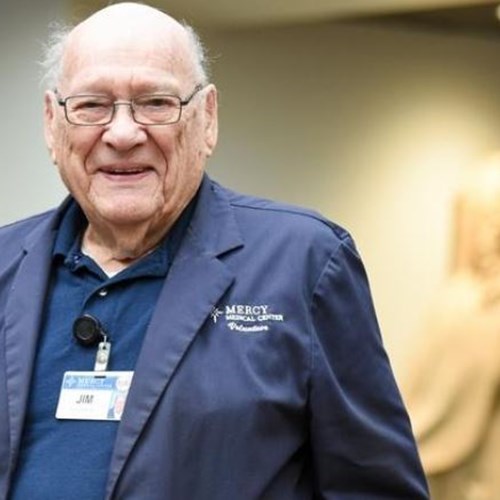 Mercy Medical Center's 93-year-old volunteer James Barnett has served 5,656 volunteer hours over the past 19 years and has no plans to stop. The Repository featured Barnett in an article Sunday in honor of National Volunteer Week.
The full text of the article is below or available by clicking here.
By Lori Steineck
The Repository
Prohibition was in full swing when James Barnett was born in Canton in June 1925.
The now-father of four, grandfather of seven and great-grandfather of 10 has been working since he was 16, starting out at Stark Dry Goods. He went on to work at a jewelry store and a steel company. He served in World War II, went on to college, raised a family and owned a successful scrap metal business.
And despite turning 94 years old this June, he has no plans of slowing down.
Barnett is the oldest volunteer at Mercy Medical Center, according to hospital officials.
Today marks the first day of National Volunteer Week, and many in our community donate their time and energy to local hospitals.
"Jim has 5,656 volunteer hours. He has volunteered for 19 years and eight months," according to Stephanie Williams, manager of volunteer services.
Barnett began volunteering for the hospital after he retired in 1998 when he sold his business, the Leopold Co.
"I couldn't just sit around and do nothing," he said smiling from behind an admitting desk where he greets incoming patients.
"He's the smiling face at the front of the line," said Becky Bondoni Fernandez, who handles public relations for Mercy.
Helping hands
Mercy Medical has 359 volunteers, Williams said.
They provide services that include clerical duties, wheelchair transport, gift shop and floral work, and desk and patient services. Last year, they completed 60,166 hours with an estimated cost savings to the hospital of about $1.4 million, she said.
Similarly, Aultman Hospital has 295 volunteers. They range from age 22 to 90, said Jason F. Clevenger, Aultman's communications specialist.
Barnett tops the list of oldest volunteer between the two hospitals and carries a wealth of knowledge of the Canton area and The Great Depression. And he continues to donate his time throughout the community.
He works at the hospital every Tuesday. On Mondays, he volunteers at the library for book sales. On Wednesdays - "and sometimes Thursdays" - he volunteers for the Pro Football Hall of Fame, and on the weekends, he takes tickets as a volunteer at the Palace Theater.
"I like them all," he said. "I enjoy the people I work with at all the places I work so much (I just) don't want to quit."
When will he REALLY retire?
"That's a good question," Barnett said, chuckling. "When I have to go to a nursing home. As long as I am able, (I'll work)."
"It keeps me busy. If you sit around watching television, you'll die quicker than anything else. You won't live long. You can only watch so much television. You can only repair your house so much. After awhile, you run out of things to fix."
His secrets to long life?
He doesn't smoke and he drinks "only in moderation," he said.
"I don't avoid anything. The only thing I won't eat is what I don't like," adding with a grin, "I don't eat right."

And when it comes to tips for a long life, having good genes doesn't hurt.
His parents and grandparents all lived into their 90s.
His daughter, Brenda Miller, lives in Canton, and his older sister, who is 95, also resides here. The rest of the family is spread from Springfield, N.J., to the east to San Francisco and Tuscon, Ariz. to the west with some family living in Cleveland and Columbus, he said.
So Barnett has traveled extensively and chooses to remain in Canton.
"The seasons are nice. It's not expensive to live here. It's really a nice place to live," he said, noting, "Canton winters are the bad feature."
As he spoke, his eyes lit up and he asked, reaching for his pocket, "Hey, do you want to see something?"
Barnett pulled out his cellphone and quickly began flipping through the photos.
Holding up his most recent shot, he asked, "Do you know who this is?"
Then, noting the Steelers football legend, he announced, "Franco Harris. That's me and Franco Harris!"
Mercy Medical Center is a ministry of the Sisters of Charity Health System.
---