Light of Hearts Villa to host virtual Luminary Illuminations fundraiser September 16
---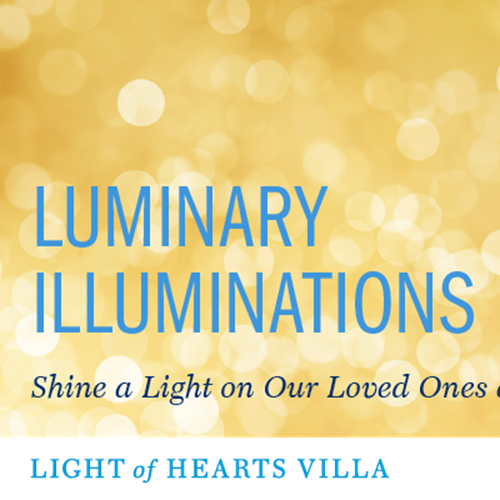 Light of Hearts Villa will be shining a light on loved ones and heroes with a special luminary during National Assisted Living Week (September 12-18). Light of Hearts Villa is hosting a special virtual event on September 16 called Luminary Illuminations to honor those who make life a bit brighter for others while supporting residents through donations.
This past year and a half has shown the superhero sides of so many. Luminary Illuminations will shine a light on their heroism with a special luminary. Whether it is a loved one who has passed away, a current resident, a Lumen Cordium alumnus or staff member, an essential worker, health care hero, a teacher or grocery store clerk… anyone who makes life a bit brighter—Light of Hearts Villa will honor them on September 16.
Light of Hearts Villa will line its chapel with beautiful luminaries with each loved one's name and dedicate the broadcast to honoring each person, while sharing a heart-warming tribute to its residents and staff, and hearing about the heroes being honored through donations.
All proceeds from this virtual event will go directly toward the Sister Helen T. Scasny, SC Benevolent Fund. This fund was designed to uphold the mission of Light of Hearts Villa by providing funding to support residents who may have outlived their financial resources. During this challenging year, the fund is in need of ample support more than ever.
While it is free to attend the virtual event, there are several ways people can support Luminary Illuminations while honoring the heroes in their lives. Sponsorship opportunities are also available.
Light of Hearts Villa is a ministry of the Sisters of Charity Health System.
---