Light of Hearts Villa launches memory care capital campaign
---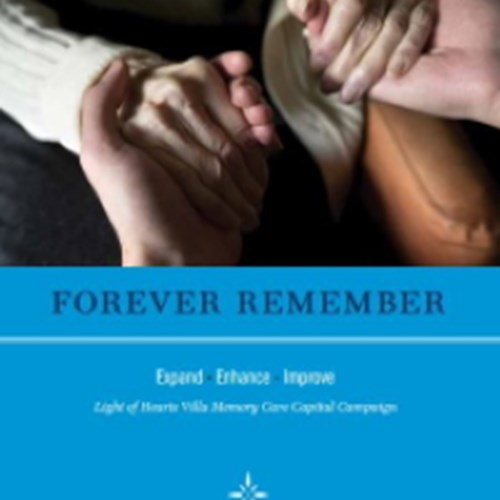 Light of Hearts Villa recently launched its Forever Remember Campaign, a plan to raise funds toward an $850,000 project to greatly improve it Lumen Lane Memory Care Unit and to enhance programming for residents with memory disorders.
For more t
han 30 years, Light of Hearts Villa has faithfully served the needs of residents and their families, providing a continuum of compassionate care in a faith-filled environment. This commitment is at the heart of its mission and service 24 hours a day, 365 days a year. That mission is demonstrated by never asking a resident to leave if their financial resources are exhausted. 
To put the Light of Hearts Villa (LOHV) facilities on par with its standard of excellent care, more than $1.5 million has been invested in campus improvements over the past several years. Even with these great strides, there are still areas where it would be beneficial to expand services, improve the care environment and enhance the overall quality of life for residents.
Improve
In an updated setting, residents will have separate dining and activity areas and can experience a life of peace and comfort—in a unique living space that feels like home.
Expand
Lumen Lane memory care is a special place for individuals with Alzheimer's disease, dementia and other related memory disorders. In this safe, secure living environment, residents enjoy private rooms and 24-hour quality care.
Enhance
At LOHV, We are always seeking ways to enhance the programming offered to residents. This campaign will enable an expanded memory care facility, while also allowing us to enhance staff education. That, in turn, means we will be able to offer more influential and tailored programming to residents with memory loss.
Looking to the Future
The purpose of the Forever Remember Campaign is to develop new and improved, secure, homelike environments that will respond to the increasing needs for the LOHV community. 
The number of Americans age 65 and older living with memory loss, including Alzheimer's and other dementia conditions, is projected to increase from 5.1 million in 2019 to 16 million in 2050—close to 14% of that growth will be right here in Ohio.
Light of Hearts Villa is seeing this increased demand for memory care and remains committed to offering the highest level of care to residents and their families. Keeping with that commitment is responding to this increased need," said Light of Hearts Villa Executive Director Breanne Cavileer. "That is why we are stepping forward to improve, expand and enhance our Lumen Lane Memory Care Unit. The proposed investments look to impact our facilities, our programs and our people."
Specifically, the expansion will create distinct spaces for dining and resident activities. Providing Lumen Lane residents with separate rooms for meals and activities is incredibly important. Residents often become confused about the time of day and a separate dining room will help eliminate confusion and improve their daily routine. Simply put, it will be much clearer if it is time for a meal or time for an activity.
"Because our residents come first, we have organized the project so their lives will have minimal disruption during construction," said Cavileer.
Creating the space to best provide memory care is critical. It must be coupled with continued investment in programs and care providers. The result will not only be an enhanced ability to providing outstanding care, but will allow LOHV to step forward as a memory care center of excellence in the region. 
To make a lasting legacy for Light of Hearts Villa. Contact our Development Manager, Amy Huntley at 440-232-1991 ext. 524 or amy.huntley@lightofheartsvilla.org to discuss different giving options, naming opportunities and more.
Read the full campaign case statement here.
Light of Hearts Villa is a ministry of the Sisters of Charity Health System.
---