Light of Hearts Villa celebrates Earth Day 26 years in a row
---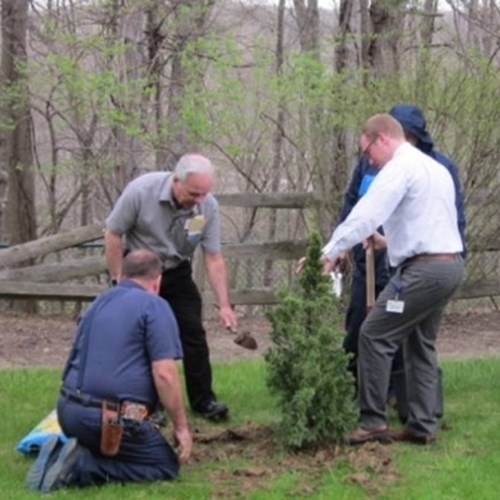 Light of Hearts Villa has been celebrating Earth Day since it opened in 1990, planting trees and flowers, distributing seeds and being environmentally conscious year round over the past 26 years. Light of Hearts Villa planted another tree to celebrate Earth Day on April 22 this year, joining other Catholic organizations in an effort to plant billions of trees around the world.
Light of Hearts Villa was featured in an Earth Day article that ran in the National Catholic Reporter. Below is an excerpt from the article or read the full story here.
Catholics join Earth Day effort to plant 7.8 billion trees
The new juniper tree at Light of Hearts Villa, in Bedford, Ohio, offers its nearly 100 residents another scenic outpost in the landscape that often draws deer, fox and recently, a peregrine falcon.
The tree was planted as part of the assisted-living community's Earth Day celebration on Thursday. Some of the 25 residents in attendance braved the weather with umbrellas to partake in the prayer and planting outside, while others watched from drier conditions inside.
Sr. Regina Kusnir said the Sisters of Charity ministry does much of the planting, viewing them as partners in their mission to help others be "light of heart." Many of their residents, in their 80s and 90s, hold "great respect for the earth," she said, since many grew up on farms and relied on family and community gardens for their meals.
"That sense of blessing the earth for its generosity to us and we being responsible stewards is something that I find is very meaningful in their lives," said Kusnir, the director of pastoral and special ministries.
The Light of Hearts Villa service relied on a program produced by the Catholic Climate Covenant to help Catholics plan Earth Day celebrations.
Light of Hearts Villa is a ministry of the Sisters of Charity Health System.
---