Joseph & Mary's Home to hold Feast of St. Joseph Mass and reception March 20
---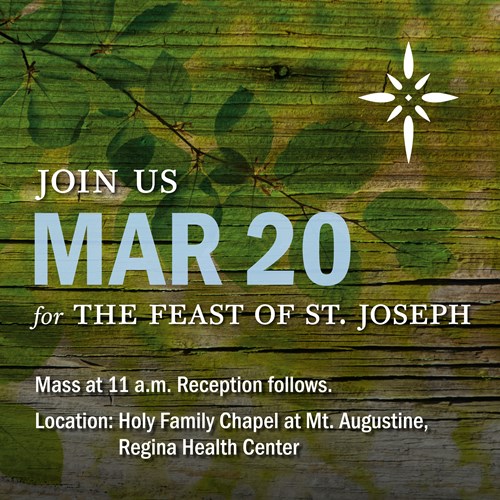 Joseph & Mary's Home is celebrating the Feast of St. Joseph Monday, March 20, at 11 a.m. at Mt. Augustine in Richfield. This special Mass is being held at a new location – The Holy Family Chapel at Mt. Augustine (the motherhouse of the Sisters of Charity of St. Augustine and home of Regina Health Center).
St. Joseph's life was that of an ordinary workman, yet his ability to see and communicate the presence of God made him extraordinary. Although Sacred Scripture doesn't tell us a great deal about him, we know St. Joseph listened to God in his dreams, and he protected and cared for Jesus and Mary. In honor of the opening of Mary's Home, Mass will conclude with the Magnificat, also known as the Prayer of Mary.
The celebration is free and all are welcome. Mass will be followed by a light reception.
Feast of St. Joseph Mass
March 20, 2023 at 11 a.m.
The Holy Family Chapel at Mt. Augustine, Regina Health Center
5232 Broadview Road, Richfield, OH 44286
Please RSVP for the Mass and reception by March 13 by contacting Director of Development Erin Miyoshi at 216.987.9201 or erin.miyoshi@jmhome.org.
Note: Masks are required. Participants will be asked to check their temperature upon arrival.

It Is Our Mission:
Joseph & Mary's Home, a ministry of the Sisters of Charity Health System, provides a nurturing, caring environment for adults without resources who have acute medical needs, helping them heal and achieve independence. Learn more at jmhome.org
---