Joseph & Mary's Home earns highest level of accreditation for behavioral health services from CARF International
---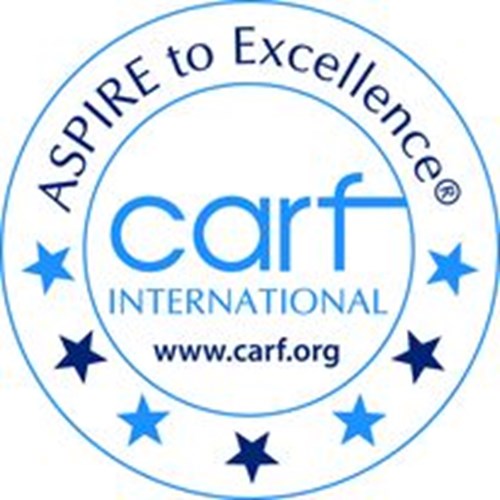 Joseph & Mary's Home, the only homeless service provider in Northeast Ohio exclusively focused on medical respite care, has been accredited by CARF International for a period of three years for its behavioral health services program. The Commission on Accreditation of Rehabilitation Facilities (CARF) is an independent, nonprofit accreditor of health and human services.
The certification announcement from CARF represents the highest level of accreditation that can be given to an organization and demonstrates substantial conformance to CARF's demanding standards. To receive CARF accreditation, Joseph & Mary's Home underwent a rigorous peer review process and demonstrated to a team of surveyors during an on-site visit its commitment to offering behavioral health programs and services that are measurable, accountable and of the highest quality.
"Receiving CARF accreditation for three years is a mark of excellence that takes a lot of time, resources and work to achieve. It's an honor to receive accreditation for the behavioral health services we provide," said Beth Graham, executive director, Joseph & Mary's Home. "Even more importantly, it demonstrates our ability to provide holistic care for our residents – healing the body, mind and soul of people in need."
"We achieved accreditation because of the tremendous support of our board and funders, enabling Joseph & Mary's Home to build a depth of clinical expertise and to receive support from external resources to improve processes and reach a level where CARF accreditation was attained," said Anthony Searcy, board chair, Joseph & Mary's Home.
The process began after an analysis by the Center for Community Solutions on ways to enhance sustainable revenue. The George Gund Foundation and the Mt. Sinai Foundation funded the analysis. A CARF accreditation is proof for government regulators that a health care provider abides by quality practices and delivers effective services when applying for funding and Medicaid reimbursement. Insurance companies and referral agencies prefer CARF-accredited providers because they exhibit lower risk and a high degree of accountability.
"With 75% of our residents diagnosed with serious mental illness and more than half diagnosed with substance use disorder, funding and continuously improving our behavioral services are key components to our ministry of healing, and CARF accreditation is an important part of that," said Michael J. Biscaro, Psy.D., ABPP (Forensic), behavioral health director of Joseph & Mary's Home and vice president of behavioral health services for the St. Vincent Charity Health Campus. "This is the dedication to providing a standard of integrated care that we, and other medical respite providers, want to be known for. Because those who we serve deserve no less than our best."
Joseph & Mary's Home is a ministry of the Sisters of Charity Health System.
---