Index-Journal: Healthy Learners Spelling Bee draws record crowd
---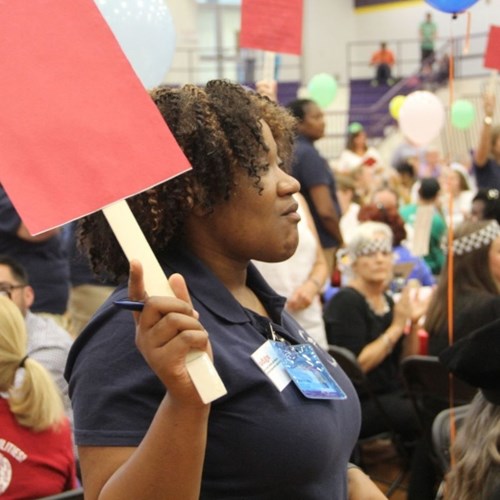 Adults from Greenwood, South Carolina, displayed their spelling skills at the third annual Greenwood Friends of Healthy Learners Spelling Bee September 26. The event raised more than $30,000 for the Healthy Learners Greenwood program. Healthy Learners is a ministry of the Sisters of Charity Health System.
The Index-Journal published the following story about the event.
September 27, 2017
By CONOR HUGES
As the enunciator spelled out "urticaria" letter by letter Tuesday night in the Emerald High School gym, red flags went up around the room and a moment later balloons began to pop — each one signaling a team out of the running in the third annual Healthy Learners Spelling Bee.
The event raised more than $25,000 from team entry fees and sponsors for Healthy Learners, a Greenwood-based nonprofit that provides access to medical care to children in need.
Betty McIntosh with Friends of Healthy Learners said by the end of the night, the spelling be likely exceeded the organization's $30,000 goal.
More teams competed in this year's spelling bee than ever before, with 55 teams vying for the top spot — up from 49 the year before.
The first round offered up ordinary words such as "obstacle."
But by the fourth, teams were faced with obscure terms, some more commonly found in medical journals than everyday conversation and others that sounded as though they'd been invented by Dr. Seuss.
When a team dropped out of the competition, a judge popped the balloon at their table. By about 8:30 p.m. only the teams from the Links at Stoney Point and First Presbyterian Church remained, surrounded by empty tables and tattered rubber.
When the enunciator gave the correct spelling of the word, the Stoney Point team emerged as the winners. Greg Hancock, a member of the first-place team, said he's competed in the spelling bee every year.
"It's a blast. I love it," he said. "I just like to support local charities and this seemed like a fun way to do it. Plus, I collect dictionaries and I thought I could show off a little."
Mary Woodiwiss, with the team from Church of the Resurrection, said she enjoyed her experience at the spelling bee.
"This was my first year participating," she said. "I came last year just because I was involved with Healthy Learners and it just seemed like more fun on the floor. So I got a team together and we practiced over wine and dessert at my house."
McIntosh said the spelling bee went smoothly and she's looking forward to the event next year.
"The excitement was great," McIntosh said. "We love the enthusiasm and all the teams were great."
---