Healthy Learners celebrates Rev. Dr. Martin Luther King Jr. and highlights how it fights inequities to honor his legacy
---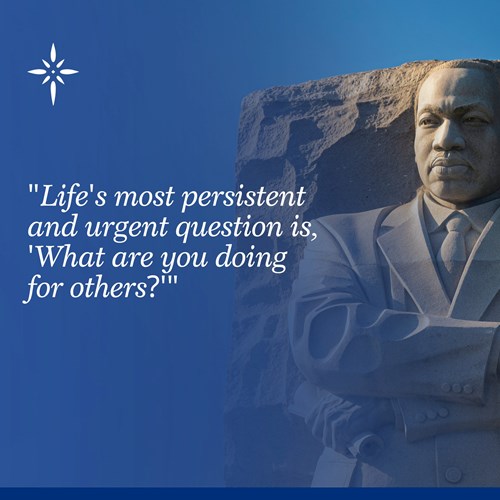 In a news post on its website, Healthy Learners reflected on the spirit of Martin Luther King Jr. Day and how the ministry is able to honor his legacy. The post highlights his legacy, the inequities in health care across South Carolina and how Healthy Learners strives to help his dream live on by working to ensure all children can be at their best in the classroom.
All Sisters of Charity Health System ministries are devoted to healing and addressing the unmet needs of individuals, families and communities, while working with community partners to battle inequities throughout their respective communities.
Following is the text of the Healthy Learners news post, which is also available here.
"Life's most persistent and urgent question is, 'What are you doing for others?'" Dr. Martin Luther King, Jr. said this to his audience in Montgomery, Alabama in 1957. Like many of his most memorable quotes, King's words are just as significant today as they were 60 years ago. His words not only opened the nation's eyes to the inequities in our communities but also shined a light on the possibility of equality for all. Today, they serve as a reminder of the racial inequities that have lingered on.
We must ask ourselves, what are we doing today, to honor the life and legacy of Dr. Martin Luther King Jr.? Each year, we observe the third Monday in January as MLK day, the only federal holiday designated as a National Day of Service. What we do after that day is where we make the most impact.
Inequities exist in a range of social and economic areas—including education, housing, employment, and proportionately within healthcare. Often referred to as social determinants of health, these conditions are key drivers of health inequities within communities of color, leaving those within these populations at greater risk for poor health outcomes. At Healthy Learners, 86% of the children we serve across that state are children of color, facing these very inequities. How can we honor Dr. Martin Luther King, Jr's life and legacy by helping fight these inequities in our community?
At Healthy Learners, we have devoted our time and mission to help provide greater access to healthcare to communities plagued with these inequities across the state of South Carolina. The prevalence of health barriers to learning is higher in children of color or in poverty, and these same children bear more burden of disease—in part due to their poor access to healthcare services. This is where Healthy Learners steps in to provide access to these critical healthcare services to help ensure all children can be at their best in the classroom. In order for our communities to thrive, it is essential that children are healthy and well-educated.
We are committed to continuing this work, finding new ways to fight these inequities, and serving those who need us the most, with love and compassion. We want the dream to live on through us.
Healthy Learners is a ministry of the Sisters of Charity Health System.
---