Healthy Insights from Healthy Learners: Making a difference in children's lives
---
Healthy Learners provides thousands of vision, dental, medication and other health-related services to students across South Carolina on its mission for healthy children, better students and thriving communities. The latest issue of the Healthy Insights from Healthy Learners newsletter shares the stories of students who Healthy Learners has helped remove their health barriers to learning, as well as news, program updates and more. The full text of one of the students' stories is below and the full newsletter is available here.
The oldest of three, Nigel was in high school nine years ago at Carvers Bay High School in Hemingway, South Carolina, when his family learned a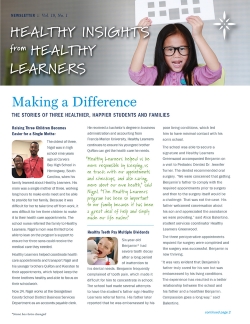 bout Healthy Learners. His mom was a single mother of three, working long hours to make ends meet and be able to provide for her family. Because it was difficult for her to take time off from work, it was difficult for her three children to make it to their health care appointments. The school nurse referred the family to Healthy Learners. Nigel's mom was thrilled to be able to lean on the program's support to ensure her three sons could receive the medical care they needed.
Healthy Learners helped coordinate health care appointments and transport Nigel (14 at the time), QuRon (7) and Kareston (10) to their appointments, which helped keep the three brothers healthy and able to focus on their schoolwork.
Now 24, Nigel works at the Georgetown County School District Business Services Department as an accounts payable clerk. He received a bachelor's degree in business administration and accounting from Francis Marion University. Healthy Learners continues to ensure his youngest brother, now 12, can get the health care he needs
"Healthy Learners helped us be more responsible by keeping us on track with our appointments and checkups, and also caring more about our own health," said Nigel. "The Healthy Learners program has been so important to our family because it has been a great deal of help and simply made our life easier."
Healthy Learners is a ministry of the Sisters of Charity Health System. 
---